About My Oxford Year
• Paperback:
352 pages
• Publisher:
William Morrow Paperbacks (April 24, 2018)
Major Motion Picture Already in Development with Temple Hill Entertainment
Set amidst the breathtaking beauty of Oxford, this sparkling debut novel tells the unforgettable story about a determined young woman eager to make her mark in the world and the handsome man who introduces her to an incredible love that will irrevocably alter her future—perfect for fans of JoJo Moyes and Nicholas Sparks.
American Ella Durran has had the same plan for her life since she was thirteen: Study at Oxford. At 24, she's finally made it to England on a Rhodes Scholarship when she's offered an unbelievable position in a rising political star's presidential campaign. With the promise that she'll work remotely and return to DC at the end of her Oxford year, she's free to enjoy her Once in a Lifetime Experience. That is, until a smart-mouthed local who is too quick with his tongue and his car ruins her shirt and her first day.
When Ella discovers that her English literature course will be taught by none other than that same local, Jamie Davenport, she thinks for the first time that Oxford might not be all she's envisioned. But a late-night drink reveals a connection she wasn't anticipating finding and what begins as a casual fling soon develops into something much more when Ella learns Jamie has a life-changing secret.
Immediately, Ella is faced with a seemingly impossible decision: turn her back on the man she's falling in love with to follow her political dreams or be there for him during a trial neither are truly prepared for. As the end of her year in Oxford rapidly approaches, Ella must decide if the dreams she's always wanted are the same ones she's now yearning for.

Purchase Links
Review:
When I first started reading My Oxford Year, I really wasn't sure if I was really going to like it. The political element was a bit strong at the beginning of the book, and I thought, Oh no, I can't deal with politics in my chick lit, I just can't. Thankfully Ella's career wasn't want this book was about. Its also not really about Ella's trials and tribulations as she studies at Oxford although the university is the backdrop for the real story.
This book ended up being a delightful surprise. OK, delightful is too light of a word, but a wonderful surprise. Its chicklit, but its so much more than that.
No, this book is about Ella and Jamie. Jamie looks like a player, a guy that drifts from girl to girl, never staying with any one woman. At first meeting, she calls him a posh prat. Those feelings don't last long. There's a lot of chemistry between the two. Ella is only in England for a year. So it seems they can come to an arrangement.
But there's more, a lot more that Ella doesn't know.
OMG!
Let's just say the trial that is mentioned in the book blurb is not what I was thinking when it came to Jamie. No, not at all. By the time you know all there is to know about Jamie, you love him as much as Ella. Let's just say that the comparison to Jojo Moyes is spot on.
In fact, to go on from here would really bring about spoilers I'm not willing to give. Suffice to say, this is a book that will stick with you long after you finish it.
You get some wonderful laugh out loud moments early on and then you get some really heart-wrenching moments as the book progresses. What surprised me is that the way this book was written, I didn't have any real burst into tears moments. Oh they were there, but there was no ugly crying going on, and I was kind of thankful for that.
This is also the only book that I scribbled a quote down to remember: "Love well those who are dying, so they may die in love."
If you need a book that will give you laughter and tears, this is definitely it.
Rating: 5 flowers
About Julia Whelan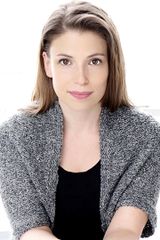 Julia Whelan is a screenwriter, lifelong actor, and award-winning audiobook narrator. She graduated with a degree in English and creative writing from Middlebury College and Oxford University. While she was in England, her flirtation with tea blossomed into a full-blown love affair, culminating in her eventual certification as a tea master.
Find out more about Julia at her
website
, and connect with her on
Twitter
,
Facebook
, and
Instagram
.