About Boardwalk Summer
• Paperback:
384 pages
• Publisher:
William Morrow Paperbacks (June 19, 2018)
In this new novel from the
USA Today
bestselling author of
The Dressmaker's Dowry
, two young women two generations apart discover the joy and heartbreak of following their dreams. Aspiring Hollywood actress Violet makes a shocking choice in 1940, and seventy years later, Mari sets out to discover what happened on that long ago summer.
Santa Cruz, Summer 1940: When auburn-haired Violet Harcourt is crowned Miss California on the boardwalk of her hometown, she knows she is one step closer to her cherished dream: a Hollywood screen test. But Violet's victory comes with a price—discord in her seemingly perfect marriage—and she grapples with how much more she is willing to pay.
Summer 2007: Single mother Marisol Cruz lives with her parents in the charming beach cottage that belonged to her grandfather, Ricardo, once a famed performer on the Santa Cruz Beach Boardwalk. Drawn to the town's local history and the quaint gazebo where her grandparents danced beneath the stars, Mari sells raffle tickets at the Beach Boardwalk Centennial Celebration, and meets Jason, a California transplant from Chicago.
When Mari discovers the obituary of Violet Harcourt, a beauty queen who died too young, she and Jason are sent on a journey together that will uncover her grandfather's lifelong secret—his connection to Violet—a story of tragedy and courage that will forever transform them.

Purchase Links
Review:
I have to admit, when I think of beach reads, I seldom think of historical fiction. This book is however the best beach read I've encountered in ages. I read it in one sitting, that's how engrossed I was in the lives of the characters.
Boardwalk Summer gives us the stories of two women, Violet Harcourt, a young woman in 1940 who has big dreams and Mari Cruz, a single mom with a passion for history in 2007 who becomes even more passionate when she reads the obituary of a young woman who was Miss California who committed suicide in 1940.
Though the more contemporary part of the story is set in 2007. The issues that face Mari are things we are seeing right now, with the treatment of Mexican immigrants to our country. Mari is fiercely devoted to her family and a wonderfully caring mother. Then she meets Jason at the restaurant where she works. From there a slow romance blossoms and a wonderful plot twist at the end makes things really wonderful, bittersweet and even a little bit tearful.
Violet's story is truly addicting. She's a young wife with dreams of stardom, but her husband has a violent temper and wants her at home. She starts out winning Miss California and then on to Hollywood, but it is the way that she gets there that makes you turn the pages. Nothing is what Violet hopes it will be.
As Mari looks for clues to Violet's death she finds a connection to her own grandfather. The Boardwalk setting is beautifully described, and I longed to be there.
There are very few books that take place in two different times, that are equally as interesting , but this book is one of them. Meredith has created characters that you fall in love with and care about. I loved them so much that I started this book in the morning and by mid-afternoon I was done.
Some might say that the ending wrapped things up too perfectly but for me it made the book bittersweet and had my wiping away a few tears. This was the perfect summer read.
Rating: 5 flowers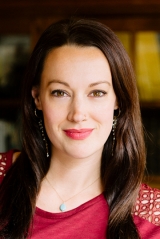 About Meredith Jaeger
USA Today
bestselling author Meredith Jaeger was born and raised in the San Francisco Bay Area, the daughter of a Swiss father and an American mother. While working for a San Francisco start-up, Meredith fulfilled her dream of writing a novel, the result of which was
The Dressmaker,s Dowry.
Meredith lives in Alameda with her husband, their infant daughter, and their bulldog.
Find out more about Meredith at her
website
, and connect with her on
Facebook
,
Twitter
, and
Instagram
.