About Something Worth Saving
• Paperback:
304 Pages
• Publisher:
Kensington (December 18, 2018)
Sandi Ward's shrewdly observed, funny, and wonderfully touching novel tells of a fractured family, a teenage boy, and a remarkable cat whose loyalty knows no bounds . . .
A boy and his cat. It's an unconventional friendship, perhaps, but for Charlie and Lily, it works beautifully. It was Charlie who chose Lily from among all the cats in the shelter. He didn't frown, the way other humans did, when he saw her injured back leg, the legacy of a cruel previous owner. Instead, Charlie insisted on rescuing her. Now Lily wants to do the same for Charlie. She's the only one who's seen the bruises on Charlie's body. If she knew who was hurting him, she'd scratch their eyes out. But she can't fix this by herself. Lily needs to get the rest of the family to focus on Charlie—not easy when they're wrapped up in their own problems. Charlie's mother kicked his father out weeks ago and has a new boyfriend who seems charming, but is still a stranger. Oldest son Kevin misses his father desperately. Victoria, Charlie's sister, also has someone new in her life, and Lily is decidedly suspicious. Even Charlie's father, who Lily loves dearly, is behaving strangely. Lily knows what it's like to feel helpless. But she also knows that you don't always have to be the biggest or the strongest to fight fiercely for the ones you love . . .
Purchase Links
Review: I am an absolute sucker for animal stories and this one is told from the point of view of the cat.
There's so much I want to say about this book, but really "I loved it" sums it up perfectly.
I adored Lily and her perspective on a family in the midst of upheaval in so many ways. I wasn't an easy read for me, because Lily reminded me of my sweet sweet Dewey who passed away in 2017.

Sandi wrote Lily so well. I loved hearing an animal story told from the animals point of view, that wasn't a book totally about animals, like the middle grade Warrior cats series.
I recommend reading this with a box of tissues close at hand. Sit back and enjoy because this is truly one of the most beautiful reads you'll experience!
Rating: 5 flowers
About Sandi Ward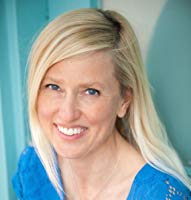 Sandi Ward writes books about love, family, forgiveness...and cats. Sandi grew up in Manchester-by-the-sea, Massachusetts, and received her MA in Creative Writing at New York University. She's the author of book club novels published by Kensington Books, stories of dysfunctional families told from the point of view of the family cat. She's also a medical copywriter at an advertising agency. She lives on the Jersey Shore with her husband, teenagers, dog and a large black cat named Winnie. On December 18, 2018 her latest novel, SOMETHING WORTH SAVING, will be on sale (available now for pre-order) in trade paperback, e-book and audio book. Find out more about Sandi at her
website
, and connect with her on
Facebook
,
Twitter
, and
Instagram
.