About The Moonglow Sisters
• Paperback:
400 pages
• Publisher:
William Morrow Paperbacks (March 3, 2020)
It's Jill Shalvis meets Susan Mallery in this gorgeous novel by New York Times bestselling author Lori Wilde about three sisters, one small town, a wedding, and the summer that changes everything.
Welcome to Moonglow Cove, Texas, a place where your neighbors know your name and the gentle waves of the Gulf of Mexico lap lazily against the sands. It's a magical spot, especially in the summertime…
Once the town was the home of the Clark sisters—brought up by their grandmother at the Moonglow Inn. Nicknamed "The Moonglow Sisters", as children they were inseparable. Then, a wedding-day betrayal tore them apart and they scattered across the globe and away from each other. But the sisters have at last come home…
There's Maddie: smart, sensible, and stubborn. Shelley, who ran off to find her bliss. And Gia, a free-spirit determined to keep the peace. It's her impending wedding that keeps them together…but Gia has a secret, and when her sisters find out all heck is going to break loose!
The Moonglow Sisters
continues Lori Wilde's trademark storytelling to create an unforgettable novel of family, betrayal, love, and second chances.
Social Media
Please use the hashtag #themoonglowsisters, and tag @tlcbooktours, @williammorrowbooks, and @loriwilde02.

Purchase Links
Review:
I've read several of Lori's books before, so I knew I was in for an enjoyable read with The Moonglow Sisters. I wasn't however expecting it to hit so many triggers with me emotionally.
The sisters have been feuding for 5 years because of something that happened at a wedding, but their grandmother's illness brings them together.
That's where I'm triggered big time. Let's just say books dealing with the preparation for the death of a loved one hit me hard, and this book knocked me for a loop.
I also wasn't prepared to intensely dislike one of the sisters, even though she had her own hardships to deal with. Yes, I hated Madison from the start.
I felt horrible for Shelley because I think she got the raw end of life, even though her choices were her own. Also Yoga Cult? I had to look this up to see that OMG this is really a thing. Stuff like that really happens.
Gia however is my spirit heroine. I loved her so much and Mike too!!! I will say their sex scene was a trifle strange.
This was really a sweet story of forgiveness, second chances and finding love and most of all family. I would have loved more of Helen's story, which tied in with the girl's mother. Her story would have made things so interesting.
The end was another huge trigger for me, because it reminded me of things my mother said in the years before she passed. I definitely had to fight back tears when I turned the last page.
This was a lovely read.
Rating:
5 flowers
About Lori Wilde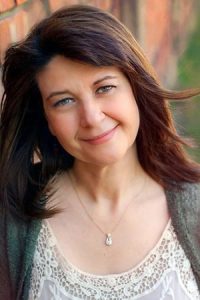 Lori Wilde is the
New York Times
,
USA
Today
and Publishers' Weekly bestselling author of 87 works of romantic fiction. She's a three-time Romance Writers' of America RITA finalist and has four times been nominated for Romantic Times Readers' Choice Award. She has won numerous other awards as well. Her books have been translated into 26 languages, with more than four million copies of her books sold worldwide. Her breakout novel,
The First Love Cookie Club,
has been optioned for a TV movie.
Lori is a registered nurse with a BSN from Texas Christian University. She holds a certificate in forensics and is also a certified yoga instructor.
A fifth-generation Texan, Lori lives with her husband, Bill, in the Cutting Horse Capital of the World; where they run Epiphany Orchards, a writing/creativity retreat for the care and enrichment of the artistic soul.
Find out more about Lori on her
website
, connect with her on
Facebook
,
Instagram
, and
Twitter
.