About Family Tree
• Paperback:
400 pages
• Publisher:
William Morrow Paperbacks; Reprint edition (January 9, 2018)
From the #1
New York Times
bestselling author comes a powerful, emotionally complex story of love, loss, the pain of the past—and the promise of the future.
Sometimes the greatest dream starts with the smallest element. A single cell, joining with another. And then dividing. And just like that, the world changes. Annie Harlow knows how lucky she is. The producer of a popular television cooking show, she loves her handsome husband and the beautiful Los Angeles home they share. And now, she's pregnant with their first child. But in an instant, her life is shattered. And when Annie awakes from a yearlong coma, she discovers that time isn't the only thing she's lost.
Grieving and wounded, Annie retreats to her old family home in Switchback, Vermont, a maple farm generations old. There, surrounded by her free-spirited brother, their divorced mother, and four young nieces and nephews, Annie slowly emerges into a world she left behind years ago: the town where she grew up, the people she knew before, the high-school boyfriend turned judge. And with the discovery of a cookbook her grandmother wrote in the distant past, Annie unearths an age-old mystery that might prove the salvation of the family farm.
Family Tree
is the story of one woman's triumph over betrayal, and how she eventually comes to terms with her past. It is the story of joys unrealized and opportunities regained. Complex, clear-eyed and big-hearted, funny, sad, and wise, it is a novel to cherish and to remember.

Purchase Links
Review:
This book has quite the "Wow" factor. In the first few chapters you feel like you might be reading a book about a Food Network type super couple.
An accident changes everything in Annie's life. She spends a year in a coma. As she comes out we see the changes that have come to her life and we get to learn more of her past, along with her relationship with her high school sweetheart, Fletcher.
I've never been a fan of stories that go back and forth from the past to the present, but the way Susan wrote this story, it worked, though I did need more time spent in the future. I felt that the book was more a retelling of Annie and Fletcher's relationship rather than the romance that bloomed again.
The flashback portions of the story give you the important parts of Annie and Fletcher's relationship as well as a bit of how Martin came into Annie's life. I wish there had been a little more about Martin. It was easy to see
Annie is really a multifaceted heroine. She has a love of food and film. I kept wondering about her choices though. She loved cooking for people and she loved her hometown. I often wondered why she didn't start her own restaurant. The other thing that didn't quite make sense to me was that offer she got at the end of the book required her to be in LA. I watch a lot of Food Network, so I found it hard to rationalize them wanting to do the show in California.
This story has more depth and a lot of emotion. Annie really grows as we see her recover and reclaim her life. While she's recovering there are other things changing in her life. Her mother and father, are giving their relationship another try.
This was a beautiful story of second (or maybe third) chances and of starting over.
Rating:
4 flowers
About Susan Wiggs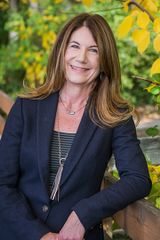 Susan Wiggs is the #1
New York Times
bestselling author of more than fifty novels, including the beloved Lakeshore Chronicles series and her most recent novel, the instant
New York Times
bestseller
Family Tree
. Her award-winning books have been translated into two dozen languages. A native of a small town in upstate New York, she now lives with her husband at the water's edge on an island in Puget Sound, and in good weather can commute to her writers' group in a twenty-one-foot motorboat. A former teacher and graduate of the University of Texas and Harvard, Susan is also an avid hiker, an amateur photographer, a good skier, and a cautious mountain biker—yet her favorite form of exercise is curling up with a good book.
Find out more about Susan at her
website
, and connect with her on
Facebook
,
Twitter
, and
Instagram
.