About Savage Bonds
• Paperback:
242 pages
• Publisher:
Diversion Books (December 12, 2017)
In the second searing thriller in the trilogy that has "everything you could possibly want and more" (San Francisco Book Review on The Raven Room), aspiring journalist Meredith Dalton is caught between murder, love, and the big city's most adventurous sex club.
Journalism student Meredith Dalton is driven to launch her career with an exposé on The Raven Room?an illicit and exclusive sex club hidden in the shadows of Chicago's Chinatown.
But Meredith's also driven by desire for her lover, Julian Reeve, a card-carrying member of the club who has expanded her sexual horizons. When Meredith uncovers evidence that the recent murders of two women are connected to The Raven Room?and possibly to Julian?only tracking down the true killer can prevent her from an impossible choice between her two passions.
Unsure who to trust, Meredith zeros in on the killer and a web of organized crime. But what are the consequences of diving deeper and deeper into a dangerous world unwilling to relinquish its secrets?
"
The Raven Room
is really about the evolution of relationships, boundaries, and choices. . . . [A] satisfying story of emotional turbulence." ?
Midwest Book Review
on
The Raven Room

Purchase Links
Review: Its been about 3 years since The Raven Room came out. Savage Bonds is the second book in the trilogy.
I have to admit, it took me awhile to get back into the groove of the story, because its been 3 years, and these books are not to be read as stand alone novels or out of order. If you do, you'll be more than a little confused.
Meredith is still planning on writing an article about The Raven Room. She wavers between doing it an not, she wants to protect Julian, but when she learns about the deaths of several women that may be connected to the club she knows she has to do something. However, her digging is putting her in danger.
What is interesting about this book is how its really difficult to like or connect with any of the characters. All of them are seriously flawed, in fact, it is hard to figure out which one is the most flawed. Julian is just beyond screwed up, and in this book, we learn even more about his younger years and how he got that way.
Then there are the twins, Sofia/Alana who is dead and Tatiana. These two were abused by their parents in various ways and in a twisted way, Julian was involved.
Like the first book, there's a lot of steamy sex. Meredith seems to be sleeping with EVERYONE.
I enjoyed the first book, but this one had so much going on and it was hard to figure out where the author wants to take the story. In the first book I liked many of the characters. In this book, I wasn't sure how I felt about them, well except for Peter. He is still a disgusting piece of work.
Also like the first book, this one ends with a cliffhanger.
ARGH!
I hope I don't have to wait 3 years to finish this trilogy.
Rating: 3 flowers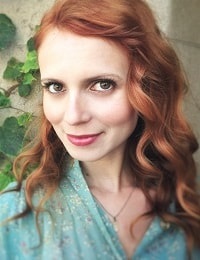 About Ana Madeiros
Ana Medeiros currently lives in Toronto, Canada, with her husband and two cats.
Savage Bonds
, book two of
The Raven Room
trilogy, is published by Diversion Books.
Visit Ana at her
website
and connect with her on
Facebook
.