Author:
Anna Lefler
Title:
The Chicktionary: From A-line to Z-snap, the words every woman should know
Publisher:
Adams Media
Publish Date:
Nov 18, 2011
Buy: Amazon
Review Copy Provided By:
The publisher and TLC Book Tours
Book Blurb:
You're all over the definitions of "low lights," "ruching," and a "tankini." But can you spot a "Mrs. Potato Head" when you see one?
That's where this book comes in. With the help of Anna Lefler and her collection of 450+ must-know words and phrases, you'll be in the know when faced with terms like:
Aberzombie: Derived from the name of the popular clothing stores, Aberzombie refers to any of nation of plaid shirt-and-tank-top-wearing undead that can be seen staggering through the food courts of malls across America.
Bandeau: From the French word meaning "there's no way that's staying up," this is a type of woman's top that consists of a strip of fabric encircling the chest at breast level and remaining aloft through snugness and prayers.
George Glass: Originally invented by Jan on The Brady Bunch after "Marcia, Marcia, Marcia" won yet another boy's heart, "George Glass" is now the generic term for an imaginary boyfriend. It is most often invoked in an effort to hide the fact that you are single or currently sleeping with someone else's husband.
So whether you are dealing with a Residual Girlfriend, diagnose yourself with a bad case of Basset Knees, or need to go on a Briet, you'll be prepared for all that comes your way. At the very least, this book will serve as a delightful reminder that everyone has a skeleton in her closet--right next to her fat pants.
Review:
Keep this book around at all times. It isn't necessary to read it through like a novel. Why? Because its really a dictionary....but of "girlie" terms, you know like Hipsters (underwear) to "Not So Fresh Feeling" (We don't need to define this for you, right?)
If you need a pick me up, just open to any page and read for a bit. Its a guarantee that in a few minutes you'll be laughing and smiling.
Its also a given that you'll know many of the words Anna defines in this book. Of course you may not know everything about those words. So crack the book and be prepared to laugh for hours on end.
I actually read most of this when my father was in the hospital near Thanksgiving, and let me tell you, it helped me keep a smile on my face. Plus I learned a few things. ~ wink wink ~
Oh and the book also has some fun facts that we all will be nodding our heads over. Case in point
If you've been waiting impatiently for a package to arrive, slip into your rattiest t-shirt, liberally apply the facial mask of your choice, then sit back and wait. Your doorbell will ring.
This book is definitely the best $12.00 a girl can spend.
Rating:
5 flowers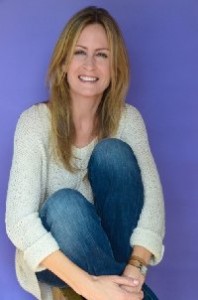 About Anna Lefler
Anna has performed standup comedy in Los Angeles clubs including the Hollywood Improv, the Comedy Store, Room 5 Lounge, and M Bar. She has presented her humorous essays at Women Who Write in Los Angeles and has appeared in the "Listen to Your Mother" show in the Los Angeles cast of its national program. Anna's fiction has been presented onstage by WordTheatre Los Angeles.
Anna writes a popular humor blog called Life Just Keeps Getting Weirder, where she ponders what a Jedi smells like and wonders why more men don't wear urban sport kilts. She has twice been asked to speak on the topic of comedy-writing at BlogHer, the world's largest conference for women in social media.
She lives in Santa Monica, California with her husband, their son and daughter, and some judgmental dogs.
Anna Lefler's TLC Book Tours TOUR STOPS: