Author:
Stephanie Laurens
Title:
The Lady Risks All
Publisher:
Avon
Publish Date:
Sept 19, 2012
Buy: Amazon
Book Blurb:
Neville Roscoe, notorious and enigmatic, lives resolutely outside society, bound only by his own code of honor - until challenged by his desire for the one woman he cannot have. Miranda Clifford is a lady imprisoned by rigid respectability - until tempted by a passion beyond her power to deny. Flung together in peril, through danger and intrigue, they discover a love impossible to ignore ... or keep.
Review:
Stephanie Laurens is one of those names that are synonymous with period romance, especially regency romance. I absolutely adored the Cynster series. So I was super excited to get my hands on The Lady Risks All.
There are many pros and cons with this book.
Pros:
Stephanie creates wonderfully fleshed out characters that you really come to love as they make their journey through the story.
The story is always more than just romance. In this case there's the mystery involving Miranda's brother.
Family curses! Gotta love this stuff. Neville's is a gambling curse..and Miranda'a family has an impropriety curse (sort of)
Cons:
The story is way too long. 500 pages for a historical romance is about 150 pages too many.
Along with being so darn long it was also slow. It seem like forever before the story started to go anywhere.
The love scenes could have been more balanced...I guess what I'm saying..is Neville and Miranda's relationship took forever to get started but when it did...it was took much.
The Lady Risks All is a good read, because all Stephanie Laurens books are good reads, but it certainly would have benefited from a little pruning
Rating:
4 flowers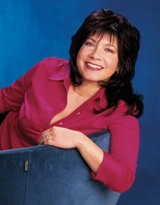 About Stephanie Laurens
: New York Times bestselling author STEPHANIE LAURENS began writing as an escape from the dry world of professional science, a hobby that quickly became a career. Her novels set in Regency England have captivated readers around the glove, making her one of the romance world's most beloved and popular authors. And Then She Fell is her fifty first work. Readers can contact Stephanie vie email at slaurens@vicnet.net.au. For information on all Stephanie's books, including updates on novels yet to come, visit Stephanie's website at
www.StephanieLaurens.com