About About a Girl
• Paperback:
416 pages
• Publisher:
Harper (April 14, 2015)
Tess Brookes has always been a Girl with a Plan. But when the Plan goes belly up, she's forced to reconsider.
After accidently answering her roommate Vanessa's phone, she decides that since being Tess isn't going so well, she might try being Vanessa. With nothing left to lose, she accepts Vanessa's photography assignment to Hawaii – she used to be an amateur snapper, how hard can it be? Right?
But Tess is soon in big trouble. And the gorgeous journalist on the shoot with her, who is making it very clear he'd like to get into her pants, is an egotistical monster. Far from home and in someone else's shoes, Tess must decide whether to fight on through, or 'fess up and run…
Purchase Links
Amazon
|
IndieBound
|
Barnes & Noble
Review: I hope it is summer and you have a beach chair and a girly drink with you when you read About A Girl. This is by far the best chicklit beach read ever!
Its whacky and not very realistic, but it is oh so very fun.
In between wanting to choke Tess and hug her, I was already trying to cast the characters in the book, for one of the best comedies ever. However, I'm not sure I want this made by Hollywood, because I want British actresses playing the parts.
I wonder if we could get Jenna Coleman to play Tess's bff Amy...maybe Karen Gillan as Vanessa? I wish I could figure out who would play Tess, because my mind sees her as Miranda Hart!
This book was..to keep in the Miranda Hart theme, "Such Fun!"
Tess, loses her job, sleeps with her best male bff, who she has been in love with for years, screws that up and assumes her rather evil flatmate's life.
So, yeah, hilarity has to ensue! And believe me, it does.

Tess was a character that I wasn't sure I would like at the beginning. In fact, for the first 50 pages or so, I didn't care for her much at all, but as the book went on, I really loved her.

Then there are the two guys in her life, Charlie, the bff from home and Nick the journalist she meets when she's pretending to be Vanessa. Both guys are less then perfect but an awful lot of lovable.

I loved that Tess' passion was photography and the relationship she cultivates with Al on the beach in Hawaii will endear her to you more.

I will warn you, the ending leaves you hanging, not in the cliffhanger, something awful is going to happen to someone sort of way, but in the what will she do kinda way.


If you love British chicklit you won't want to miss this one.

I can't wait for the next book!
Rating: 5 flowers
About Lindsey Kelk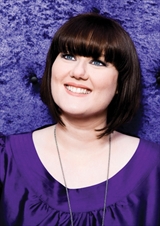 Lindsey Kelk is a writer and children's book editor. When she isn't writing, reading, listening to music, or watching more TV than is healthy, Lindsey likes to wear shoes, shop for shoes, and judge the shoes of others. Born in England, Lindsey loves living in New York but misses Sherbet Fountains, London, and drinking gin and elderflower cocktails with her friends. Not necessarily in that order.
Find out more about Lindsey at her
website
, and connect with her on
Facebook
,
Twitter
, and
Instagram
.