About The Cherry Harvest
•
Hardcover:
336 pages
•
Publisher:
William Morrow (June 2, 2015)
A memorable coming-of-age story and love story, laced with suspense, which explores a hidden side of the home front during World War II, when German POWs were put to work in a Wisconsin farm community . . . with dark and unexpected consequences.
The war has taken a toll on the Christiansen family. With food rationed and money scarce, Charlotte struggles to keep her family well fed. Her teenage daughter, Kate, raises rabbits to earn money for college and dreams of becoming a writer. Her husband, Thomas, struggles to keep the farm going while their son, and most of the other local men, are fighting in Europe.
When their upcoming cherry harvest is threatened, strong-willed Charlotte helps persuade local authorities to allow German war prisoners from a nearby camp to pick the fruit.
But when Thomas befriends one of the prisoners, a teacher named Karl, and invites him to tutor Kate, the implications of Charlotte's decision become apparent—especially when she finds herself unexpectedly drawn to Karl. So busy are they with the prisoners that Charlotte and Thomas fail to see that Kate is becoming a young woman, with dreams and temptations of her own—including a secret romance with the son of a wealthy, war-profiteering senator. And when their beloved Ben returns home, bitter and injured, bearing an intense hatred of Germans, Charlotte's secrets threaten to explode their world.

Purchase Links
Review:
I have read a lot of books that I gave 5 flowers/flowers too this year, but very few reached the wonderfulness that was The Cherry Harvest. If the cover doesn't pull you in, the story will.
The story revolves Charlotte and her daughter Kate and how their lives are changed when German POWs come to help with the harvesting.
From the start of the story, the reader can tell that Charlotte and Kate aren't a lovey dovey mother daughter pair. Though I can understand Charlotte's motive's at the beginning of the novel, she isn't a character that you can love, pity, yes, love, no.
Kate is her daughter getting ready for university. She's different from her mother, more bookish. She's like her father. She longs to get away from the farm to study literature and to write. She's much easier to like. She's smart and innocent all at the same time.
Another character that figures into the story is Josie, Kate's best friend and her brother Ben's girl. She's another character that isn't easy to like. She's a bit of a tart and more than a bit shallow.
The men in the story are much easier to like. Thomas is Charlotte's husband. He's smarter than he's given credit for. It is easy to see how he isn't suited to Charlotte even though they have been married for years. There's a scene early on with Kate when they go to a play and meet a woman that's a professor and friend who was obviously more than a friend to her father.
Somehow this relationship doesn't feel quite as bad as Charlotte's relationship with the Nazi, POW, Karl. There is so much trouble that results from this indiscretion.
I think I felt the most pity for Karl. Yes, he was the enemy, but he cared about Charlotte and did his best to protect her at a high cost.
Then there is Ben, the boy that went off to war. He was the life of the party sort, but comes back wounded and changed.
Lastly there's Clay, the wealthy senator's son who Kate falls in love with.
These characters intertwine and create a lush, beautiful story that is hard to put down. There's drama and a touch of romance and an awful lot of heartbreak.
It's not a happily ever after sort of story, and though that's what I usually look for in a great book, there's something about the heartbreaking end to this novel that made me love it. Maybe it is because it has aspects of real life to it.
This book is truly one of the best reads from 2015 and one that shouldn't be missed.
Rating: 5 flowers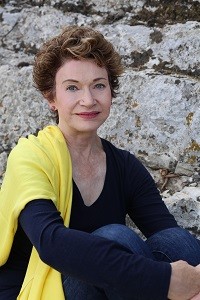 About Lucy Sanna
Lucy Sanna has published poetry, short stories, and nonfiction books, which have been translated into a number of languages. Born and raised in Wisconsin, Sanna now divides her time between Madison, Wisconsin, and San Francisco.
The Cherry Harvest
is her first novel.
Find out more about Lucy at her
website
and connect with her on
Facebook
.