About Family Tree
• Hardcover:
368 pages
• Publisher:
William Morrow (August 9, 2016)
From the #1
New York Times
bestselling author comes a powerful, emotionally complex story of love, loss, the pain of the past—and the promise of the future.
Sometimes the greatest dream starts with the smallest element. A single cell, joining with another. And then dividing. And just like that, the world changes. Annie Rush knows how lucky she is. The producer of a popular television cooking show, she loves her handsome husband and the beautiful Los Angeles home they share. And now, she's pregnant with their first child. But in an instant, her life is shattered. And when Annie awakes from a yearlong coma, she discovers that time isn't the only thing she's lost.
Grieving and wounded, Annie retreats to her old family home in Switchback, Vermont, a maple farm generations old. There, surrounded by her free-spirited brother, their divorced mother, and four young nieces and nephews, Annie slowly emerges into a world she left behind years ago: the town where she grew up, the people she knew before, the high-school boyfriend turned judge. And with the discovery of a cookbook her grandmother wrote in the distant past, Annie unearths an age-old mystery that might prove the salvation of the family farm.
Family Tree
is the story of one woman's triumph over betrayal, and how she eventually comes to terms with her past. It is the story of joys unrealized and opportunities regained. Complex, clear-eyed and big-hearted, funny, sad, and wise, it is a novel to cherish and to remember.

Purchase Links
Review: Susan Wiggs is one of my favorite authors. She can write across genres and no matter what you'll be treated to a first class read.
Family Tree is definitely first class. It pulls you in from the start. I love the food show premise. I think everyone that watches Food Network back when there were actual good cooking shows on the channel, dreamed to demonstrating how to make a meal for the whole world. OK, well I did. So I can totally understand Annie's dream.
I can also feel sorry for her for all the things that went wrong. I was curious from the get go as to what happened with her husband, Martin. The details of that were surprising to me and definitely not what I expected.
Its a story of second chances and recovery, both with her life and her career and her heart. I love that this was a foodie book, especially when Annie was home recovering in Vermont. Oh the maple syrup....I actually felt I learned a lot about the that industry while reading this book.
She also reconnects with her first love Fletcher. We see a lot of their past relationship in the flash backs of this story.
I liked the sweetness of this book. I think I'm getting old because I prefer my books with less sex these days.
If you are looking for a good emotionally charged read, this is your book
Rating; 5 flowers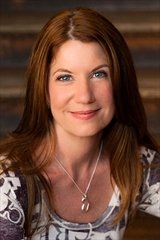 About Susan Wiggs
Susan Wiggs is the #1
New York Times
bestselling author of more than fifty novels, including the beloved Lakeshore Chronicles series. Her books have been translated into two dozen languages. A Harvard graduate, Susan lives with her husband on an island in Puget Sound.
Find out more about Susan at her
website
, and connect with her on
Facebook
,
Twitter
,
Pinterest
, and
Instagram
.