About The Boy is Back
• Hardcover:
368 pages
• Publisher:
William Morrow (October 18, 2016)
In this brand-new novel from #1
New York Times
bestselling author Meg Cabot, a scandal brings a young man back home to the small town, crazy family, and first love he left behind.
Reed Stewart thought he'd left all his small town troubles—including a broken heart—behind when he ditched tiny Bloomville, Indiana, ten years ago to become rich and famous on the professional golf circuit. Then one tiny post on the Internet causes all of those troubles to return . . . with a vengeance.
Becky Flowers has worked hard to build her successful senior relocation business, but she's worked even harder to forget Reed Stewart ever existed. She has absolutely no intention of seeing him when he returns—until his family hires her to save his parents.
Now Reed and Becky can't avoid one another—or the memories of that one fateful night. And soon everything they thought they knew about themselves (and each other) has been turned upside down, and they—and the entire town of Bloomville—might never be the same, all because The Boy Is Back.

Purchase Links
Review:
If you want to read a book that will make you feel good, this is one of them. I didn't know it was part of a series until I finished it.
Ah more Meg Cabot to read, and I've read a lot of her books. I mean a lot of them. (I adored the Heather Wells series)
Everything about this book is fun, from the cover to the writing style which is told through emails, texts and journal entries and even newspaper clippings. Even better are the reviews. Trust me those are hilarious
This takes talent. I ca't imagine trying to make an interesting story based on chats/social media type stuff.
I love the dialogue via text etc between all the characters. Its funny. It makes me feel good and I've read a lot of deep reads lately, that makes something fluffy and fun more so.
Becky and Reed have a history. Something bad went down on prom night and Reed was gone from her life for 10 years. He's back now because his parents are having issues. Lots of issues.
If you want something with substance, the drama part of the story will be lacking. Reed's parents are hoarders and as you learn they are being taken advantage of. Once they mention that someone could be ripping off the Judge and Connie, you instantly know who it is. It is that obvious. For a writer that did great mysteries, that made this a little disappointing.
But don't try to make this book anything more than it is, a light fluffy fun read that is full of laughs.
This was a book I needed and I enjoyed it immensely.
Rating: 5 flowers
About Meg Cabot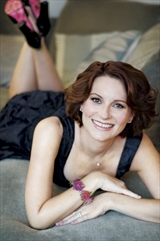 Meg Cabot was born in Bloomington, Indiana. In addition to her award-winning adult contemporary fiction, she is the author of bestselling young adult fiction, including The Princess Diaries and the Mediator series. More than twenty-five million copies of her novels for children and adults have sold worldwide. Meg lives in Key West, Florida, with her husband.
Find out more about Meg at her
website
, follow her
blog
, and connect with her on
Facebook
and
Twitter
.