About Road to Paradise
• Paperback:
544 pages
• Publisher:
William Morrow Paperbacks (November 29, 2016)
Love, passion, and friendship collide on the road trip of a lifetime in this breathtaking novel from Paullina Simons, internationally bestselling author of
The Bronze Horseman
and
Tully.
There's no telling where a journey will lead you…
Shelby Sloane has big plans for the summer of 1981. She'll drive cross country in her graduation present—a classic yellow Mustang. In California, she hopes to find the mother who left her behind long ago, and then return East in time to start college. Her childhood friend Gina is desperate to reunite with her boyfriend in Bakersfield and has convinced Shelby to bring her along.
With Gina on board, Shelby's carefully mapped-out itinerary is quickly abandoned. Soon, so is their "no hitchhikers" rule when Shelby picks up a mysterious girl named Candy Cane, who sets them all on a new and dangerous course. Streetwise beyond her years and decked out with tattoos, piercings, and spiky hair, Candy is on the run from a past darker than anything the two suburban girls have ever known. Candy draws Shelby and Gina into her terrifying world, where life as they know it is turned upside down and there is no place left to hide.

Purchase Links
Review:
The first thing I noticed about this book was the cover. It really gives you a good idea about the road trip aspect of the book. Although it would have been better if they would have made the girl look like she was from the time period that the book was set in..which was 1981
The book is long. 520 pages for a book that's kind of Chicklit in nature and that makes it a bit drawn out. OK it makes it a lot drawn out. This book should have been about 200 pages shorter and it would have been perfect, but the length slowed things down and the drew away from the things that were good about the book.
What was good about the book?
The characters were well developed and interesting. I really loved Shelby and Gina. There journey across the country is one that is full of ups and downs. They have an idea of what they want to happen on this journey and of course, these things don't happen.
This is actually a re-release of a book that was out in 2007. (I kept thinking if I was going to rerelease this book, I might have trimmed it down)
Rating: 3 flowers


About Paullina Simons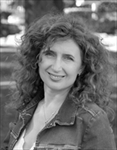 Paullina Simons is an internationally bestselling author whose novels include
Bellagrand
and
The Bronze Horseman
was born in Leningrad in 1963. As a child she immigrated to Queens, New York, and attended colleges in Long Island. Then she moved to England and attended Essex University, before returning to America. She lives in New York with her husband and children.
Find out more about Paullina at her
website
, follow her on
Twitter
, and connect with her on
Facebook
.qw 23vvvvvvvvvv
\]