About Every Wild Heart
• Hardcover:
304 pages
• Publisher:
William Morrow (March 14, 2017)
From
USA Today
bestselling author Meg Donohue comes a mystery, a love story, and a mother-daughter tale about two women on a precarious journey to uncover their true selves.
Passionate and funny, radio personality Gail Gideon is a true original. Nine years ago when Gail's husband announced that he wanted a divorce, her ensuing on-air rant propelled her local radio show into the national spotlight. Now, "The Gail Gideon Show" is beloved by millions of single women who tune-in for her advice on the power of self-reinvention. But fame comes at a price. After all, what does a woman who has staked her career on being single do when she finds herself falling in love? And is the person who is harassing her in increasingly troubling ways a misguided fan or a true danger to Gail and her daughter, Nic?
Fourteen-year-old Nic has always felt that she pales in comparison to her vibrant, outgoing mother. Plagued by a fear of social situations, she is most comfortable at the stable where she spends her afternoons. But when a riding accident lands Nic in the hospital, she awakens from her coma changed. Suddenly, she has no fear at all and her disconcerting behavior lands her in one risky situation after another. And no one, least of all her mother, can guess what she will do next…

Purchase Links
Review:
I read Meg's Dog Crazy awhile back and really enjoyed it. Every Wild Heart is just as enjoyable, especially if you like mother/daughter relationships.
I really identified with Gina (the mom's) taste in music. Gotta love anyone,fictional or otherwise that loves Siouxsie Sioux and Patti Smith and The Pretenders. However, personality-wise, I am more like Nic.
The first, almost half of the novel is really a getting to know the characters. When Nic has an accident that's when things start to change. Nic really changes when she comes out of her coma. She's more like her mother. She's ready to take chances and in some ways she's becoming fearless.
Truth be told. I worried about Nic and I kept my fingers crossed that nothing bad would happen to her at the end of the story. I was really glad that my instincts were wrong. I loved Nic so much that I didn't want anything to happen to her. She is truly a good hearted kid, especially since she was only 14.
What really stuck me about Nic was her total devotion to the horses, especially Peach. The only thing she did that bugged me was the thought of selling her horse to buy Peach.
There's also a little mystery to the story involving a stalker. There's a point in the story when we learn something about another character...and your eyes open to who it is. This is a person that in some ways you should dislike, but there really was no way to do it, because this person was so screwed up.
I also loved the relationship that finally budded for Gina and Denny. They definitely belonged together.
I really enjoyed this book, as I did Dog Crazy, if not more, because I really liked the characters so much more in this book.
Rating: 5 flowers
About Meg Donohue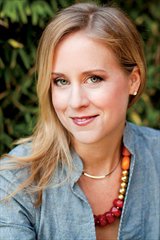 Meg Donohue is the
USA Today
bestselling author of
How to Eat a Cupcake, All the Summer Girls,
and
Dog Crazy.
She has an MFA in creative writing from Columbia University and a BA in comparative literature from Dartmouth College. Born and raised in Philadelphia, she now lives in San Francisco with her husband, three children, and dog.
Find out more about Meg at her
website
, and connect with her on
Facebook
and
Twitter
.