About Last Christmas in Paris
• Paperback:
400 pages
• Publisher:
William Morrow Paperbacks (October 3, 2017)
New York Times
bestselling author Hazel Gaynor has joined with Heather Webb to create this unforgettably romantic novel of the Great War.
August 1914
. England is at war. As Evie Elliott watches her brother, Will, and his best friend, Thomas Harding, depart for the front, she believes—as everyone does—that it will be over by Christmas, when the trio plan to celebrate the holiday among the romantic cafes of Paris.
But as history tells us, it all happened so differently…
Evie and Thomas experience a very different war. Frustrated by life as a privileged young lady, Evie longs to play a greater part in the conflict—but how?—and as Thomas struggles with the unimaginable realities of war he also faces personal battles back home where War Office regulations on press reporting cause trouble at his father's newspaper business. Through their letters, Evie and Thomas share their greatest hopes and fears—and grow ever fonder from afar. Can love flourish amid the horror of the First World War, or will fate intervene?
Christmas 1968
. With failing health, Thomas returns to Paris—a cherished packet of letters in hand—determined to lay to rest the ghosts of his past. But one final letter is waiting for him…

Purchase Links
Review:
Some books are destined to be tear-jerkers. I knew this was one in just the first few pages. By the time I hit page 100, tears were freely flowing.
I love stories that stir my emotions and I can always count on Hazel Gaynor to be a writer of one. I haven't read any of Heather Webb's work, but after this book, I am sure to do so.
Don't let the book title fool you though. This isn't a Christmas story, though a Christmas trip to Paris, that was supposed to happen before war broke out weaves its way into the fabric of the letters. The holiday itself is the subject of many of the letters sent between Evie and Tom.
The letters written by Evie and Tom are wonderfully emotional. The other letters between friends and family just add to the brilliance of this story. These are characters that you care for and your heart aches for when bad things happen to them, and during wartime, you know that it is bound to happen. No, you more than care for them, you love them.
My heart hurt for both of them so many times through this book. Each suffers different kinds of losses throughout the war, a brother, a father.
Thomas and Evie correspond continuously throughout the war and their relationship changes and as the war changes them. Evie is falling in love with Tom, though she never really gets around to telling him properly.
Through these letters you get the day to day observations on the home front as well as the front lines. You see the war from both points of view, and as Evie takes up her pen, you see it through the column she writes for Tom's family's newspaper.
There is a small part of the story told in Tom's point of view in 1968. He is making his "Last Christmas in Paris" shortly after Evie has died. In his last trip to Paris, you also get a sweet reveal to the mystery of Evie's brother's love affair, before he was killed in combat.
The ending of the book is bittersweet. I cried like a child at the end.
This was quite possibly the most beautiful book I've read this year. This is one for my keeper shelf.
Rating 5 flowers
About Hazel Gaynor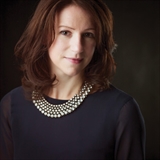 HAZEL GAYNOR is the New York Times and USA Today bestselling author of
A Memory of Violets
and
The Girl Who Came Home
, for which she received the 2015 RNA Historical Novel of the Year award. Her third novel
The Girl from the Savoy
was an Irish Times and Globe & Mail Canada bestseller, and was shortlisted for the BGE Irish Book Awards Popular Fiction Book of the Year.
Hazel was selected by US Library Journal as one of 'Ten Big Breakout Authors' for 2015 and her work has been translated into several languages.
Originally from Yorkshire, England, Hazel now lives in Ireland.
Find out more about Hazel at her
website
, and connect with her on
Facebook
and
Twitter
.
About Heather Webb
HEATHER WEBB writes historical fiction for Penguin, including her novels
Becoming Josephine
and
Rodin's Lover
.
As a former military brat, Heather naturally grew up obsessed with travel, culture, and languages. She put her degrees to good use teaching high school French for nearly a decade before channeling these passions into fiction. When not writing, she flexes her foodie skills or looks for excuses to head to the other side of the world.
Heather is a member of the Historical Novel Society and the Women's Fiction Writers Association.
Find out more about Heather at her
website
, and connect with her on
Facebook
and
Twitter
.