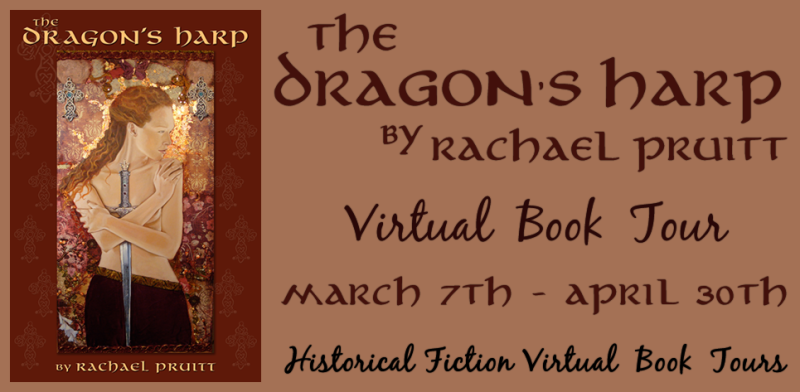 Author:
Rachel Pruitt
Title:
The Dragon's Harp
Publisher:
Dragon Harp Publications
Publish Date:
Feb 16, 2012
Buy:
Amazon
Review Copy Provided By:
Historical Fiction Book Tours and the author
Book Blurb:
Before Gwenhwyfar became Queen - before Arthur met Merlin - a tribal Welsh princess met a young Heatherlands Mage. Together, they will create a legend. Inside a mist of beauty and brutality waits the Arthurian legend as you've never heard it before. Enter the world of THE DRAGON'S HARP, a realm of blood lust and vengeance, of spellbinding magic from the beginning of time. The realm of Princess Gwenhwyfar: a young girl torn between magic and desire, born with magical powers she can either wield to save her people from destruction - or deny to save her soul. IN AN ERA OF DRAGONS A YOUNG GIRL COMES OF AGE First in a five book series of historical fantasy, Rachael Pruitt's unique take on a beloved legend reintroduces the mythic characters of Gwenhwyfar, Merlin, and Vortigern against the gritty backdrop of sixth century Wales, where scenes of shape-shifting and heartbreaking romance vie with torture, murder, and battle in a dragon-haunted land.
Review:
The Dragon's Harp is the story of the days before Gwenhwyfar and Arthur become King and Queen. This is before the legend of Camelot. Here we see Gwenhwyfar as a young girl growing up. These are feudal times when there is much fighting and much magic.
The fighting at times makes it a very gruesome read. Heads can often be found on sticks to forever guard the surrounding lands.
I wasn't sure how I felt about Gwenhwyfar throughout most of the story. She came across as a brat and a spoiled one at that. Her relationship with her mother disturbed me as a result of certain events in the story. (I can't tell them, it would spoil everything) Gwen is not exactly a character that you'll have much sympathy for later on in Arthurian legend.
I do love the portrayal of Merlin, as her uncle, he appears wise and nurturing. He is the easiest character in this story to like. Maybe that is because he is there and not there for a good portion of the story.
The novel is very entertaining and the introduction towards the end of the evil Ula and her daughter definitely make you want more. You definitely want to know what is going to happen next and when she's going to meet Arthur, who Merlin is already tutoring.
Rating:
4 flowers
About The Author:
My name is Rachael Pruitt and I'm a writer, storyteller, and teacher with a lifelong fascination for Celtic mythology and the Arthurian legend.
My new novel, The Dragon's Harp, tells the story of the coming of age of the famous Queen Gwenhwyfar (the Welsh spelling for Guinevere) in a dark and frightening time. Merlin is her Uncle and, although she is a tribal Celtic princess who possesses both power and magic, she is in great danger from both the human and supernatural realms.
Dragon's Harp is just the beginning! I have plans for four more books about Gwenhwyfar and Merlin's lives. The books are called Era of Dragons: The Lost Tales of Gwenhwyfar.
Giveaway:
Rachel is offering one Kindle copy of The Dragon's Harp to US residents only. Leave a comment with your name and email address. One winner will be chosen at random on April 1, 2012.