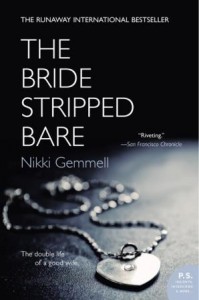 About The Bride Stripped Bare
• Publisher: Harper Perennial (February 1, 2005)
• Language: English
A woman disappears, leaving behind an incendiary diary chronicling a journey of sexual awakening. To all who knew her, she was the good wife: happy, devoted, content. But the diary reveals a secret self, one who's discovered that her new marriage contains mysteries of its own. She has discovered a forgotten Elizabethan manuscript that dares to speak of what women truly desire, and inspired by its revelations, she tastes for the first time the intoxicating power of knowing what she wants and how to get it. The question is: How long can she sustain a perilous double life?
Review:
This book wasn't an easy read, but looking back to when I read Nikki's With My Body, I recall that that one wasn't an easy read for me either.
My problem is with the female character...who seems nameless, though her husband has one (Cole) and so does her best friend (Theo).
As the story goes on...the lead character finds out her husband is having an affair (possibly) with her best friend.
From that moment on...I just get more and more frustrated with the heroine. I can't deal with a woman who won't walk out only because she doesn't want her friend to win? And what I can't stand even more is how she repays her husband by cheating on him.
WTF.
In the course of this time we hear about the heroine and Cole's rather bleak sex life. It leaves you wondering why "SHE" proposed to him.
By the end of the book...I really couldn't stand her.
The heroine goes through a sort of sexual awakening as a result of her discovering her husband might be having an affair. She takes up with an actor named Gabriel, who is about the only character you can possibly like in the book, until their last encounter and then you don't like him much anymore too.
Like With My Body, The Bride Stripped Bare is written in the second person. That makes it even more difficult to take, though of the two books, I liked With My Body better, at least I felt more emotion for the nameless heroine in that book.
I didn't feel anything for the heroine in this book. I think the point of view really keeps you from getting close to the character you most want to know.
The other thing that was a bit of a disappointment to me was the Elizabethan manuscript. I wanted something more from that story angle than the author delivered.
Even though I was frustrated with the book, I give Nikki Gemmell credit, she creates a story that I couldn't abandon.
Rating:
3 flowers