Mass Market Paperback: 480 Pages
Publisher: HQN; Original edition (November 1, 2018)
In her brand-new series, Brenda Jackson welcomes you to Catalina Cove, where even the biggest heartbreaks can be healed…
In the wake of a devastating teen pregnancy that left her childless and heartbroken, Vashti Alcindor left Catalina Cove, Louisiana, with no plans to return. Now, over a decade later, Vashti reluctantly finds herself back in her hometown after inheriting her aunt's B and B. Her homecoming gets off to a rocky start when the new sheriff, Sawyer Grisham, pulls her over for speeding, and things go downhill from there.
The B and B, a place she'd always found refuge in when it seemed like the whole world was against her, has fallen into disrepair. When a surprising benefactor encourages Vashti to reopen the B and B, Vashti embraces a fresh start, and soon old hurts begin to fade as she makes new memories with the town—and its handsome sheriff…
But some pasts are too big to escape, and when a bombshell of a secret changes everything she thought was true, Vashti is left reeling. With Sawyer and his teenage daughter determined to see her through the storm, though, she's learning family isn't always a matter of blood—sometimes it's a matter of heart.

Purchase Links
Review: This is my first read after a long drought. I was intrigued, because I've read a lot of Brenda Jackson's Desires for Harleequin.
Love In Catalina Cove is a small town romance, though Vashti is anything but a small town girl, even though she hails from the town. She left years ago after a teen pregnancy. This is where the book started to go wrong for me.
Its 2018 and the way Vashti was treated made the setting feel more like the 1960s or 1950s. I had a hard time wrapping my brain around a family that would send their daughter away because she was having a baby.
Then there was the interaction with Sawyer when he gives her a speeding ticket was off for me too. That made getting into the book slow for me, but that was me and my bad mind set right now.

However once I started to get to know both characters, I found I liked them and the story that Ms Jackson was weaving. I'm glad I gave it a go.
Rating: 4 flowers
About Brenda Jackson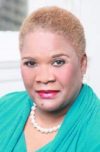 Brenda Jackson is a
New York Times
bestselling author of more than one hundred romance titles. Brenda lives in Jacksonville, Florida, and divides her time between family, writing and traveling.