About The DNA of You and Me
• Hardcover:
256 pages
• Publisher:
William Morrow (March 12, 2019)
"Refreshing.... Asks urgent questions about female ambition. Fans of Lab Girl have found a worthy successor."—Real Simple
A powerful debut novel—a wonderfully engaging infusion of Lab Girl, The Assistants, and Eleanor Oliphant Is Completely Fine—that pits the ambition of scientific discovery against the siren call of love.
Emily Apell arrives in Justin McKinnon's renowned research lab with the single-minded goal of making a breakthrough discovery. But a colleague in the lab, Aeden Doherty, has been working on a similar topic, and his findings threaten to compete with her research.
To Emily's surprise, her rational mind is unsettled by Aeden, and when they end up working together their animosity turns to physical passion, followed by love. Emily eventually allows herself to envision a future with Aeden, but when he decides to leave the lab it becomes clear to her that she must make a choice. It is only years later, when she is about to receive a prestigious award for the work they did together, that Emily is able to unravel everything that happened between them.
A sharp, relevant novel that speaks to the ambitions and desires of modern women,
The DNA of You and Me
explores the evergreen question of career versus family, the irrational sensibility of love, and whether one can be a loner without a diagnostic label.
Social Media
Please use the hashtag #thednaofyouandme, and tag @tlcbooktours, @williammorrowbooks, and @andrearothmanauthor.

Purchase Links
Review:
This book brings to mind The Big Bang Theory and Sheldon and Amy, back before Amy really became part of the group and her character changed.
Emily is a research scientist looking for a gene that explains why we smell, or something of that nature. Aeden is another scientist in the lab she's working in.
Truthfully I wasn't sure what to expect with this book work vs love? Scientific competition?
Therein lies the problem with this story. You can't get invested in the romance between the two. They are attracted to each other, but in a strange way. Probably stranger than Sheldon and Amy or any of the other characters in BBT. There is really no spark between them that would say, these two should get together, yet they do. Kinda. They have awkward sex, which doesn't really show any spark either.
Then there's their research. Aeden's been there for awhile and his research didn't go anywhere, but now Emily's is. (Part A Star Is Born?)
Also Aeden wants more from life than just a lab. Emily knows nothing but science. She also knows she doesn't fit in with his family. Saying to his mother "human companionship is overrated."
For this book to be really good, we really needed to know more of the struggle Emily was facing. Heck the relationship she had with Aeden needed to be more developed. Truthfully it felt like it was just sex until it wasn't and then..poof.
Also Aeden, unlike Sheldon Cooper, seems to get around, with the ladies in the lab, if you follow the story. Nothing is really mentioned..but if you read and pay attention, he's a bit of a player.
The ending was even more of a let down. I won't spoil it but I'll just say I wanted a whole lot more then what we got between the two.
So for me, this one was a bit of a disappointment.
Rating: 2 flowers
About Andrea Rothman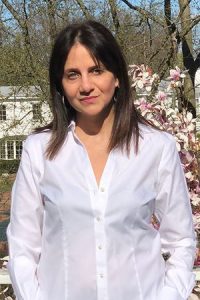 Andrea Rothman was born in Brooklyn NY and raised in Caracas, Venezuela. Her debut novel, THE DNA OF YOU AND ME, was published by William Morrow-HarperCollins in March of 2019. The novel has received starred reviews from Publisher's Weekly and Library Journal, and won an award for Best Popular Fiction in English at the 21st International Latino Book Awards in Los Angeles.
Prior to being a fiction writer, Rothman was a research scientist at the Rockefeller University in New York, where she studied the sense of smell. She holds an MFA in writing from Vermont College of Fine Arts and was a fiction editor for the VCFA journal of the arts-Hunger Mountain.
Her essays and short stories have appeared in print and online journals such as Literary Hub, Lablit, Cleaver Magazine, and Litro Magazine among others, and can be viewed at
www.andrearothman.com
.
Rothman lives with her husband and two children in Long Island, New York. She is at work on a second novel.
Connect with Rothman on
Instagram
,
Twitter
, and
Facebook
.