About The Outlook for Earthlings
Paperback:

237 pages

Publisher:

Regal House Publishing (October 2, 2020)
The Outlook For Earthlings
traces a difficult friendship across a lifetime. Melanie Taper is rule-bound, timid, self-erasing. Yet in unguarded moments she demonstrates such deadly insight into human foibles as to suggest a strength that has, for dark reasons, deliberately hidden itself lifelong. Scarlet Rand is rash, willful, abrasive—vexed by "demure" traits and "small fussing motions." Shocked by Mel's passivity and near-archaic saintliness, Scarlet disbelieves it. Their friendship suggests to each a final frontier, a saving sanctuary. Yet at its core each woman takes a secret, moral offense at the other's inmost nature—and her choices. Against the deadline of the illness which is slowly destroying one of them, a reckoning must occur.
The Outlook for Earthlings
considers the limits of friendship—and of witnessing. It asks how we may finally measure a life—and who should do the measuring.
Social Media
Please use the hashtag #theoutlookforearthlings, and tag @tlcbooktours.

Purchase Links
Review: I'm not going to say that The Outlook for Earthlings was a disappointment might be a bit harsh, but I will say it wasn't quite what I expected. I wanted something otherworldly. I knew it was women's fiction, but I thought there would be something special about this book
Sadly I couldn't find anything that I could construe as special
This story focuses on two friends, Mel and Scarlet who couldn't be more different. The main focus is on Mel, who is essentially a big ole doormat. She has such promise as the story starts. She is a wonderful actress and yet she is quiet and reserved, the opposite of her friend Scarlet.
Then she throws it all away to marry Richard. I kind of went all WTF is wrong with you, when she married this guy. I mean this was the late 60s early 70s. Women were getting liberated then and she walked into this horrid relationship and she's a smart talented woman and she let's this jerk treat her the way he does.
This story is really Mel's more than Scarlet's. Truthfully I don't remember much about Scarlet other than she's Mel's friend who is there for her when she moves back home due to illness.
Oh and Mel moves back home to be with someone.
And can we get another ARGH for that relationship that was more frustrating that her marriage.
Really Mel? At the beginning of the book I thought, wow, the mousey little girl is going to go somewhere and do something.
At the end of the book, Mel felt like a doormat and a wasted life.
If you take away anything from reading this book, it should be, don't be like Mel.
Rating: 3 flowers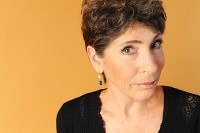 About Joan Frank
Joan Frank
is the author of ten books: eight of literary fiction and two essay collections. Her recent books are WHERE YOU'RE ALL GOING: FOUR NOVELLAS and TRY TO GET LOST: ESSAYS ON TRAVEL AND PLACE. A MacDowell Fellow and recipient of many honors and awards, Joan also reviews literary fiction and nonfiction for the Washington Post. Find out more about Joan at her
website
.