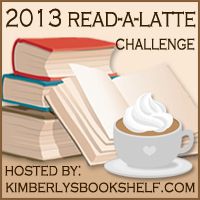 From
Kimberly's Bookshelf
Here are the challenge details:
1. This challenge will begin on January 1st, 2013 and end December 31, 2013.
2. Books for this challenge can be from any genre and may include print books as well as e-books and audio books.
Choose a Level:
Latte 75 books
Cappuccino 100 books
Double-Espresso 150+ books
3. This challenge can cross-over to your other reading challenges.
4. You do not need a blog to participate! If you are not a blogger, you can post your reviews at Goodreads, Shelfari, or LibraryThing and link them up here.
5. I will create a new post each month with a linky for your reviews. Also, I'll be offering quarterly reader gifts to the top three participants. I'll announce the winners on the last day of every three months. And at the end of the challenge I'll have a special bonus for the top three overall participants.
I'm going for Double-Espresso!
Robin Bielman - Yours At Midgnight
(1/3/2013)
Anne Gimpel - A Time For Everything
(1/5/2013)
Sam Thomas - The Midwife's Tale
(1/7/2013)
Wanda E. Brunstetter - Goodbye To Yesterday
(1/9/2013)
T.J. Brown - Summerset Abbey
(1/12/2013)
Jessica Hart - Hitched!
(1/13/2013)
Diann Hunt - Bittersweet Surrender
(1/15/2013)
June Kramin - I'll Try To Behave Myself
(1/16/2013)
Jeanette Murray - No Mistletoe Required
(1/18/2013)
Rosalind James - Just For Now
(1/20/2013)
Cassandra Carr - Master Class
(1/21/2013) @ Wenches
Tinney Sue Heath - A Thing Done
(1/23/2013)
Margaret Lesh - Finding A Man For Sylvia
(1/25/2013)
C.J. Ellison - Vanilla On Top
(1/27/2013)
Mitch Albom - The Time Keeper)
(1/31/2013)