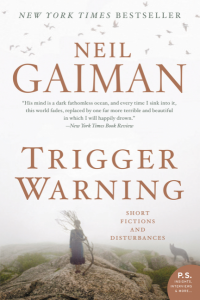 • Author: Neil Gaiman
• Title: Trigger Warning
• Paperback: 368 pages
• Publisher: William Morrow Paperbacks; Reprint edition (October 27, 2015)
From one of the most critically acclaimed and beloved storytellers of our time comes a major new collection of stories and verse
"We each have our little triggers . . . things that wait for us in the dark corridors of our lives." So says Neil Gaiman in his introduction to Trigger Warning, a remarkable compendium of twenty-five stories and poems that explore the transformative power of imagination.
In "Adventure Story"—a thematic companion to the #1 New York Times bestselling novel The Ocean at the End of the Lane—Gaiman ponders death and the ways in which people take their stories with them when they die. "A Calendar of Tales" is comprised of short pieces about the months of the year—stories of pirates and March winds, an igloo made of books, and a Mother's Day card that portends disturbances in the universe. Gaiman offers his own ingenious spin on Sherlock Holmes in his award-nominated mystery tale "The Case of Death and Honey." Also included is "Nothing O'Clock," a very special Doctor Who story that was written for the beloved series in 2013, as well as the never-before-published "Black Dog," a haunting new tale that revisits the world of American Gods as Shadow Moon stops in at a village pub on his way back to America.
Gaiman, a sophisticated writer whose creative genius is unparalleled, entrances with his literary alchemy and transports us deep into an undiscovered country where the fantastical becomes real and the everyday is incandescent. Replete with wonder and terror, surprises and amusements, Trigger Warning is a treasury of literary delights that engage the mind, stir the heart, and shake the soul.

Purchase Links
Review:

I've been a fan of Neil Gaiman
's work for a long time. I've read The Graveyard Book, Coraline and I adore all the episodes of Doctor Who that he's written. This man is seriously talented.
I'm kind of on the fence with this short story collection. Some of the stories, I absolutely loved like "Nothing O'Clock" because its a Doctor Who story and all Who stories make my day.
I also loved "The Case of Death and Honey" It's Sherlock Holmes, what more can I say. I love when Gaiman works with classic stories, story tellers etc.
What I like about short story collections is that I didn't have to read it all at the same time. I can read a few other books at the same time, which is what I did here.
Some of the stories, are fantastic and others just good, but there will be things to appeal to anyone that likes Gaiman and the genres he usually writes. If you aren't a regular reader of Gaiman's work, I'd probably say you should read one of his full length novels first before diving into this one, you'll have a better chance of appreciating these stories.
Rating: 4 flowers
Neil Gaiman is the #1
New York Times
bestselling author of more than twenty books, and is the recipient of numerous literary honors. Originally from England, he now lives in America.
Find out more about Neil at his
website
, find all his books at his
online bookstore
, and follow him on
Facebook
,
tumblr
, and his
blog
.