About America's First Daughter
• Paperback:
624 pages
• Publisher:
William Morrow Paperbacks (March 1, 2016)
In a compelling, richly researched novel that draws from thousands of letters and original sources, bestselling authors Stephanie Dray and Laura Kamoie tell the fascinating, untold story of Thomas Jefferson's eldest daughter, Martha "Patsy" Jefferson Randolph—a woman who kept the secrets of our most enigmatic founding father and shaped an American legacy.
From her earliest days, Patsy Jefferson knows that though her father loves his family dearly, his devotion to his country runs deeper still. As Thomas Jefferson's oldest daughter, she becomes his helpmate, protector, and constant companion in the wake of her mother's death, traveling with him when he becomes American minister to France.
It is in Paris, at the glittering court and among the first tumultuous days of revolution, that fifteen-year-old Patsy learns about her father's troubling liaison with Sally Hemings, a slave girl her own age. Meanwhile, Patsy has fallen in love—with her father's protégé William Short, a staunch abolitionist and ambitious diplomat. Torn between love, principles, and the bonds of family, Patsy questions whether she can choose a life as William's wife and still be a devoted daughter.
Her choice will follow her in the years to come, to Virginia farmland, Monticello, and even the White House. And as scandal, tragedy, and poverty threaten her family, Patsy must decide how much she will sacrifice to protect her father's reputation, in the process defining not just his political legacy, but that of the nation he founded.

Purchase Links
Review:
I totally fell in love with this book. I don't usually read books involving American history. I have a fondness for European history. I picked this book because of the subject matter. I've always been interested in Thomas Jefferson.
We see Patsy from the time she was a very young girl until close to the end of her life. She is more than a dutiful daughter. She was her father's protector. She put just about everything aside for her dad.
I really felt I learned a lot about the Jefferson family after reading this book. I found myself reading next to the computer so I could google/fact check the authors. (Yes, I do that) And though the romance of this story was something that can't be confirmed, though biographers seem to think there was a real romance between William Short and Patsy Jefferson.
Jefferson's personal life is definitely interesting, when it comes to his relationship with Sally Hemings. I knew of this relationship but never realized the relationship she held with Jefferson's wife, Martha. Yeah, she was her half sister. (At that time, that was actually considered incestuous. Now, I think it could just be considered a little creepy)
Patsy is truly an incredible woman. Her marriage was not an easy one, in fact is is quite turbulent and that's shown clearly in the pages here. Most of the time I found myself feeling sorry for her. Her own marriage could be described as abusive, and she had a daughter whose husband was abusive.
The most interesting part of the book are the years in Paris before Jefferson's presidency. You get American history with a touch of French history just as the revolution there is about to start.
If you enjoy stories about the early days of America or just historical novels. You will definitely come away from this book feeling that you've learned something.
Rating: 5 flowers
About Stephanie Dray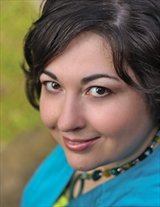 Stephanie Dray is a bestselling and award-nominated author of historical women's fiction. Her work has been translated into six different languages, was nominated for RWA's RITA Award, and won NJRW's Golden Leaf. She is a frequent panelist and presenter at national writing conventions and lives near the nation's capital.
Find out more about Stephanie at her
website
, and connect with her on
Facebook
and
Twitter
.
About Laura Kamoie
Laura Kamoie has published two nonfiction books on early America and most recently held the position of Associate Professor of History at the U.S. Naval Academy before transitioning to a full-time career writing genre fiction under the name Laura Kaye, the
New York Times
bestselling author of more than twenty books.
Find out more about Laura at her
website
, and connect with her on
Facebook
and
Twitter
.