About The Paris Wedding
• Paperback:
336 pages
• Publisher:
William Morrow Paperbacks; Reprint edition (June 12, 2018)
In Australian bestselling author Charlotte Nash's U.S. debut, a young woman attends her ex-boyfriend's Paris wedding and discovers more than she ever dreamed in the ultimate city of love.
Imagine you are invited to Paris, the City of Love, to witness the wedding of your first love to a woman you've never met. Would you go?
It's been ages since Rachael West has seen the man she once believed she couldn't live without. Receiving his wedding invitation was bittersweet—she was oddly touched he's asked her, but knows that facing him on this day would be the hardest thing she's ever done.
But her friends and family convince her to attend. After all, it's an all-expenses-paid trip to Paris! Surely she can get through that one day, and discover all the delights of that magical city the remainder of the time.
So Rachael leaves her small town, setting off for the City of Lights with her best friend, two feuding neighbors, and a suitcase full of home-sewn couture in tow. She's determined to let Paris work its magic—and it does by way of a handsome photojournalist. And before her adventure is over, Rachael will be faced with yet another choice. But this time, hers isn't the only happiness at risk . . . .

Purchase Links
Review:
The Paris Wedding is the story of a woman who had given up 10 years of her life to take care of her mother, who had a rare form of MS. The book opens with the passing of her mother. I can totally feel for Rachael, as I've spent that much of my life taking care of my parents. I only wish I had an ex that would be sending me to Paris all expenses paid to witness his nuptials.
This was an enjoyable weekend read about a woman finding herself. The cast of characters that surround Rachael are fabulous. I love Sammy and Bev and Bernie. They were so quirky and wonderful. Sammy has some life decisions to make while she's in Paris as well.
Also, her ex, Matthew was just a jerk. But that's all I'll say on that. Suffice to say this guy was just not all that he was cracked up to be.
This was a fantasy type romance, set in Australia and Paris. I mean, whose ex invites them to their wedding and pays for them to come? Then Rachael gets caught up in her old feelings for Matt. I loved Rachael, but when she finally talks to Matt in Paris, I wanted to shake the hell out of her. The sexy photographer is interested, and she's ready to wreck so much for a guy that ditched her once and now is trying to screw up more lives.
ARGH!
Again, I won't say too much because this really is a sweet book, and you really have to read the book to appreciate what happens here.
Seeing Paris through Rachael's eyes is fabulous. Also, Bonnie grandmother Yvette is super sweet. I love how she helps Rachael to see there are other things that she could do with her life.
The trip ends with a lot of drama on Rachael's part and Sammy's and returning home means they both have some decisions to make with their lives.
Because this is a romance, all works out well for most everyone, heck even Bernie and Beverly the two feuding neighbors seem to settle things.
This was a wonderful read!
Rating: 5 flowers.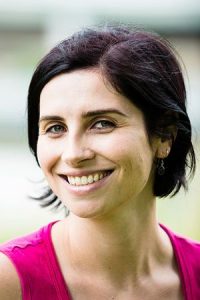 About Charlotte Nash
Charlotte Nash began stealing her mother's Jilly Cooper novels at the age of thirteen and has been enthusiastic about romance ever since. She started writing after graduating from medical school, and her romantic stories set in amazing places are now published around the world. She lives with her family and chickens in a cozy cottage on the east coast of Australia.
Find out more about Charlotte at her
website
, and connect with her on
Twitter
and
Facebook
.