About The Forgotten Letters of Esther Durrant
• Paperback:
400 pages
• Publisher:
William Morrow Paperbacks (March 3, 2020)
A cache of unsent love letters from the 1950s is found in a suitcase on a remote island in this mysterious love story in the tradition of the novels by Kate Morton and Elizabeth Gilbert
.
1951. Esther Durrant, a young mother, is committed to an isolated mental asylum by her husband. Run by a pioneering psychiatrist, the hospital is at first Esther's prison but soon surprisingly becomes her refuge.
2018. Free-spirited marine scientist Rachel Parker embarks on a research posting in the Isles of Scilly, off the Cornish coast. When a violent storm forces her to take shelter on a far-flung island, she discovers a collection of hidden love letters. Captivated by their passion and tenderness, Rachel determines to track down the intended recipient. But she has no idea of the far-reaching consequences her decision will bring.
Meanwhile, in London, Eve is helping her grandmother, a renowned mountaineer, write her memoirs. When she is contacted by Rachel, it sets in motion a chain of events that threatens to reveal secrets kept buried for more than sixty years.
With an arresting dual narrative that immediately captivates the reader,
The Forgotten Letters of Esther Durrant
is an inspirational story of the sacrifices made for love.
Social Media
Please use the hashtag #theforgottenlettersofestherdurrant, and tag @tlcbooktours, @williammorrowbooks, and @kaytenunn2.

Purchase Links
Review:
The Forgotten Letters of Esther Durrant is a stunning work of historical fiction. It is told in dual time periods but it is also told through the eyes of three different women. The first woman is Esther who ends up on an island in mental hospital, committed by her husband. She is lured there on what she thinks will be a vacation.
Then there's Eve, who is helping her grandmother recover from a bad fall. She is also helping her grandmother write her memoirs.
Rachel is a marine biologist studying clams of all things. A discovery on an island brings them together and long hidden secrets are coming to light.
This was a story that I got lost in as soon as I started it. The three stories weave together beautifully. I really wanted to close myself off from the world while I read this book.
Esther was such a wonderful character and you heart will hurt for her through her experiences. Her time in the mental asylum wasn't what you'd expect. Mostly I wanted to hunt down her husband and clobber him.
Esther was unlucky to not marry a man that she truly loved, but then you don't really get a good portrait of her marriage here, just that they were struggling, but you aren't sure why until much later. When you do learn, you are frustrated for her for the lack of understanding that came from her husband.
Then there's Rachel, who doesn't seem to want to put down roots who finds out part of Esther's story in a round about way.
I really didn't connect with Rachel, but as we got to know her you saw she really had a good heart, especially when it came to Leah, who now lives on the island where the mental asylum used to be.
Perhaps there could have been a little more development between the stories. I would have loved to have learned more about Eve, Esther's granddaughter and definitely more about Esther's marriage, but it was still a lovely story.
It is nice to read a story that deals with postpartum depression and SIDS that doesn't make you want to run for the bridge.
There is a sweet little twist at the end too that will make the many years apart seem worthwhile too.
Rating:
5 flowers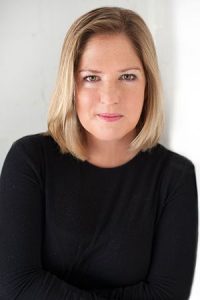 About Kayte Nunn
Kayte Nunn is a former magazine and book editor, and the international bestselling author of four novels, among them
The Botanist's Daughter
and
The Forgotten Letters of Esther Durrant
. Originally from Britain, she has also lived in the USA, and now resides in Australia, in Northern New South Wales, with her family.
Find out more about Kayte at her
website
, and connect with her on
Facebook
,
Twitter
, and
Instagram
.