About Resistance Women
• Paperback:
640 pages
• Publisher:
William Morrow Paperbacks; Reprint edition (February 4, 2020)
One of BookBub's best historical novels of the year and Oprah magazine's buzziest books of the month.
From the New York Times bestselling author of Mrs. Lincoln's Dressmaker, an enthralling historical saga that recreates the danger, romance, and sacrifice of an era and brings to life one courageous, passionate American—Mildred Fish Harnack—and her circle of women friends who waged a clandestine battle against Hitler in Nazi Berlin.
After Wisconsin graduate student Mildred Fish marries brilliant German economist Arvid Harnack, she accompanies him to his German homeland, where a promising future awaits. In the thriving intellectual culture of 1930s Berlin, the newlyweds create a rich new life filled with love, friendships, and rewarding work—but the rise of a malevolent new political faction inexorably changes their fate.
As Adolf Hitler and his Nazi Party wield violence and lies to seize power, Mildred, Arvid, and their friends resolve to resist. Mildred gathers intelligence for her American contacts, including Martha Dodd, the vivacious and very modern daughter of the US ambassador. Her German friends, aspiring author Greta Kuckoff and literature student Sara Weitz, risk their lives to collect information from journalists, military officers, and officials within the highest levels of the Nazi regime.
For years, Mildred's network stealthily fights to bring down the Third Reich from within. But when Nazi radio operatives detect an errant Russian signal, the Harnack resistance cell is exposed, with fatal consequences.
Inspired by actual events,
Resistance Women
is an enthralling, unforgettable story of ordinary people determined to resist the rise of evil, sacrificing their own lives and liberty to fight injustice and defend the oppressed.
Social Media
Please use the hashtag #resistancewomen and tag @tlcbooktours, @williammorrowbooks, and @jenniferchiaveriniauthor.

Purchase Links
Review: Anytime I find myself having a hard time making it through a book, I should look for historical fiction. There's something about a good novel that takes me back into the past to get my reading mojo going.
Jennifer Chiaverini is one of my favorite authors. I've read so many of the Elm Creek Quilts series and I have loved them all.
This was a lengthy tome, much longer than most books I read. (I have to admit I have a short attention span)
This book was so wonderfully written and researched. I really found the book amazing and hearbreaking at the same time. It is hard for any novel set around WWII in Germany to be anything other than heartbreaking.
You get the stories of three different women whose lives intersect. It is based on the lives of real women who worked to thwart the Nazis.
To say this book was less than stellar would be a lie.
Its a must read for lovers of historical fiction
Rating: 5 flowers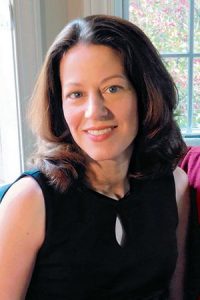 [caption id="attachment_71816" align="alignright" width="160"] Photo by Michael Chiaverini[/caption]
About Jennifer Chiaverini
Jennifer Chiaverini is the
New York Times
bestselling author of several acclaimed historical novels and the beloved Elm Creek Quilts series. A graduate of the University of Notre Dame and the University of Chicago, she lives with her husband and two sons in Madison, Wisconsin.
Find out more about Jennifer at her
website
, and connect with her on
Facebook
,
Twitter
, and
Instagram
.