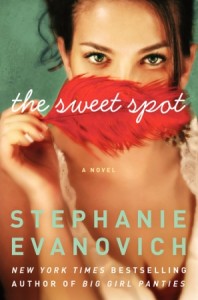 Author:
Stephanie Evanovich
Title:
The Sweet Spot
Publisher:
William Morrow
Publish Date:
July 8, 2014
Buy:
Amazon
,
IndieBound
, and
Barnes & Noble
Review Copy Provided By:
TLC Book Tours
Book Blurb:
When pro baseball player Chase Walker first meets restaurateur Amanda Cole, it's love at first sight. But while Amanda can't help noticing the superstar with the Greek-god build, he doesn't have a chance of getting to first—or any other—base with her. A successful entrepreneur who's built her business from scratch, Amanda doesn't need a Prince Charming to sweep her off her feet.
But Chase has charm and heart, as well as hunky good looks, and he isn't about to strike out in this courtship. His hopes rally when Amanda discovers that squeaky-clean Chase has a few sexy and very secret pregame rituals that turn the smart, headstrong businesswoman on—and into his number one fan.
Then a tabloid and a hidden camera threaten to turn the love of a lifetime into just another late-night punch line. Is Amanda ready to let loose and swing for the fences? Or will the pressure of Chase's stardom force them to call it quits?

Review:
I read Big Girl Panties last year and I enjoyed it, definitely enough to read the story of Chase and Amanda, who we met in BGP.
This was a little different than the last book, a much quicker read, for sure, but a little more sexy. There was a bit of dom/sub storyline. Please people, can we get over the whole 50 shades stuff and just write good romance?
I've read enough erotica to know that this was very tame and just not worth being part of the story. I felt like that part of their relationship was written because it was the "in" thing to write about. And really, Steph gets the romance part of the story down perfectly.
What I do love about Steph's books are her heroine's aren't your picture perfect girls. They are real women.
This was a fun, spicier read, perfect for a beach blanket.
Rating:
3 flowers