About The Locksmith's Daughter
• Paperback:
576 pages
• Publisher:
William Morrow Paperbacks (July 31, 2018)
From acclaimed author Karen Brooks comes this intriguing novel rich in historical detail and drama as it tells the unforgettable story of Queen Elizabeth's daring, ruthless spymaster and his female protégée.
In Queen Elizabeth's England, where no one can be trusted and secrets are currency, one woman stands without fear.
Mallory Bright is the only daughter of London's most ingenious locksmith. She has apprenticed with her father since childhood, and there is no lock too elaborate for her to crack. After scandal destroys her reputation, Mallory has returned to her father's home and lives almost as a recluse, ignoring the whispers and gossip of their neighbors. But Sir Francis Walsingham, Queen Elizabeth's spymaster and a frequent client of Mallory's father, draws her into his world of danger and deception. For the locksmith's daughter is not only good at cracking locks, she also has a talent for codes, spycraft, and intrigue. With Mallory by Sir Francis's side, no scheme in England or abroad is safe from discovery.
But Mallory's loyalty wavers when she witnesses the brutal and bloody public execution of three Jesuit priests and realizes the human cost of her espionage. And later, when she discovers the identity of a Catholic spy and a conspiracy that threatens the kingdom, she is forced to choose between her country and her heart.
Once Sir Francis's greatest asset, Mallory is fast becoming his worst threat—and there is only one way the Queen's master spy deals with his enemies…

Purchase Links
Review:
First of all the cover of this book is so freaking gorgeous.
This is a book that is a must read for fans of historical mysteries.
Why?
1. Elizabethan England is the setting.
2. Spies! I mean Elizabethan spies! I have to admit, some of my favorite historical mysteries involve espionage.
3. I feel like I'm transported back in time. I love a story that really pulls you in and this book does that. Mallory is fabulous character.
I can't repeat it enough, MUST READ
Rating: 5 flowers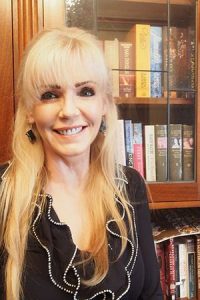 About Karen Brooks
Australian-born Karen Brooks is the author of nine novels, an academic, a newspaper columnist and social commentator, and has appeared regularly on national TV and radio. Before turning to academia, she was an army officer, and dabbled in acting. She lives in Hobart, Tasmania.
Find out more about Karen at her
website
, and connect with her on
Facebook
and
Twitter
.