About The Daisy Children
• Paperback:
432 pages
• Publisher:
William Morrow Paperbacks (August 7, 2018)
Inspired by true events, in Sofia Grant's powerfully moving new novel a young woman peels back the layers of her family's history, discovering a tragedy in the past that explains so much of the present. This unforgettable story is one of hope, healing, and the discovery of truth.
Sometimes the untold stories of the past are the ones we need to hear...
When Katie Garrett gets the unexpected news that she's received an inheritance from the grandmother she hardly knew, it couldn't have come at a better time. She flees Boston—and her increasingly estranged husband—and travels to rural Texas.
There, she's greeted by her distant cousin Scarlett. Friendly, flamboyant, eternally optimistic, Scarlett couldn't be more different from sensible Katie. And as they begin the task of sorting through their grandmother's possessions, they discover letters and photographs that uncover the hidden truths about their shared history, and the long-forgotten tragedy of the New London school explosion of 1937 that binds them.
Social Media
Please use the hashtag #thedaisychildren in your social media posts, and tag @williammorrowbooks, @sofiagrantauthor, and @tlcbooktours on Instagram, or @wmmorrowbooks, @swlittlefield, and @tlcbooktours on Twitter.

Purchase Links
Review:
The Daisy Children is another book with a stunner for a cover. I love when books with gorgeous covers are equally awesome when I've finished reading them.
Family sagas are probably one of my favorite genres.
Katie heads to Texas after her grandmother dies. She's having marital problems, so the trip is a somewhat welcome thing.
The story is told in the past and present, an all to common thing in these types of books, but it works well in this story. I was equally engaged in both sides of the story.
The story in the past involves the 1937 explosion of a school that caused 311 deaths when all was said and done. Several of the mothers decided to get pregnant shortly after the tragedy, thus creating replacement children.
A little creepy? Yes. But the mind does strange things after a loss.
This book follows one of the families that "replaced" a child.
With the help of a cousin Katie starts to uncover her family's past.
This was a fabulous historical novel.
Rating: 5 flowers
About Sofia Grant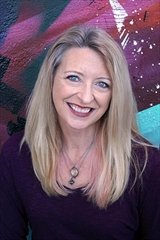 Sofia Grant has the heart of a homemaker, the curiosity of a cat, and the keen eye of a scout. She works from an urban aerie in Oakland, California.
Find out more about Sofia at her
website
, and connect with her on
Facebook
,
Twitter
, and
Instagram
.