Author:
Doug Cooper
Title:
Outside In
Publisher:
Greenleaf Book Group Press
Publish Date:
Aug 13, 2013
Buy: Amazon
Review Copy Provided By:
TLC Book Tours
Book Blurb:
From Memorial Day until the student workers and tourists leave in the fall, the island community of Put-In-Bay, Ohio, thrives on alcohol, drugs, sexual experimentation, and any other means of forgetting responsibilities. To Brad Shepherd–recently forced out of his job as a junior high math teacher after the overdose death of a student–it's exactly the kind of place he's looking for.
Allured by the comfort and acceptance of the hedonistic atmosphere, Brad trades his academic responsibilities and sense of obligation for a bouncer's flashlight and a pursuit of the endless summer. With Cinch Stevens, his new best friend and local drug dealer, at his side, Brad becomes lost in a haze of excess and instant gratification filled with romantic conquests, late-night excursions to special island hideaways, and a growing drug habit. Not even the hope from a blossoming relationship with Astrid, a bold and radiant Norwegian waitress, nor the mentoring from a mysterious mandolin player named Caldwell is enough to pull him out of his downward spiral. But as Labor Day approaches, the grim reality of his empty quest consumes him. With nowhere left to run or hide, Brad must accept that identity cannot be found or fabricated, but emerges from within when one has the courage to let go.
A look at one man's belated coming of age that's equally funny, earnest, romantic, and lamenting, Doug Cooper's debut novel explores the modern search for responsibility and identity, showing through the eyes of Brad Shepherd how sometimes, we can only come to understand who we truly are by becoming the person we're not.
Review:
Outside In is like so many coming of age stories I've read, with one exception, the main character is a guy. Brad Shepherd is a guy spiraling out of control after one of his students OD's on his watch.
I'm not really sure how I felt about the district forcing him out of his job from the start. I can see how it could happen, but I couldn't see any negligence on his part. Once this happens, he loses focus and himself and ends up in Put-In-Bay, OH.
Thanks Mr. Cooper, after Googling this lakeside town, I've decided that some day I must road trip there just to see Ohio's Perry Monument. I'm used to the one located in Presque Isle State Park, across the bay from where Perry's ship The Niagara is often docked.
This is the monument in Ohio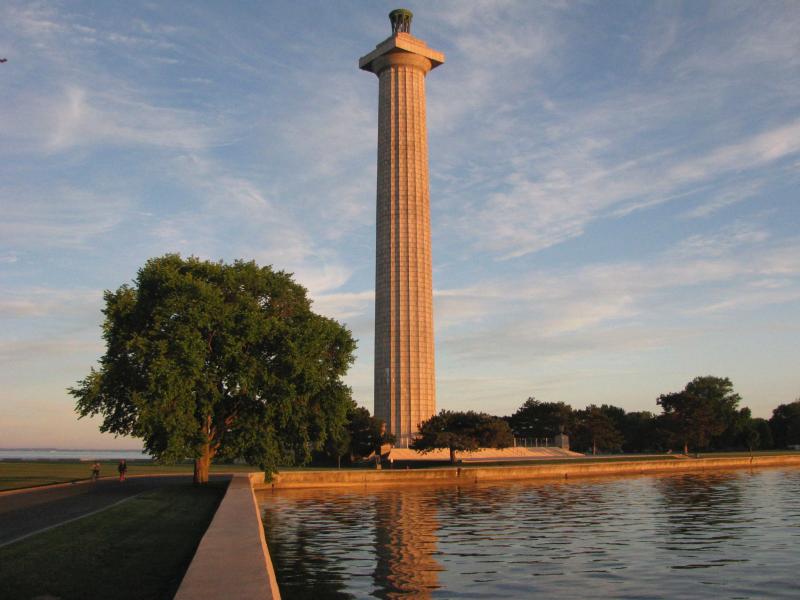 It is hard to believe such a normal guy can spiral down the wrong way so quickly. He takes a job as a bouncer and soon becomes caught up in drinking, drugs and more than a few sexual encounters.
I have to say, of the hookups Brad made in the course of the book, the only one that was really erotic was the one with Randy.
As things continue to go wrong Brad slowly starts to step away from the drugs. He did it a bit too easily in my opinion, especially after all the partying he did over the summer. I mean, this guy was drinking, smoking weed and snorting coke and yet he stops cold turkey.
The climax of the book ends with a death of one of the characters. It was more than a bit depressing, but not unexpected.
It was hard to like these characters. Not because they were bad, but because they were all so messed up in their own ways. You knew each one of them could be so much better that what they were. Haley was the one I felt the most sorry for. She grasped at relationships the wrong way. Astrid....well there was something about her that I just couldn't like. I wanted to smack her most of the time, along with Cinch.
Outside In, was a quick read, definitely different from the girlie books that I'm used to, but it was something that I enjoyed even as I stepped out of my comfort zone.
Rating:
4 flowers