Author:
Jane McCafferty
Title:
First You Try Everything
Publisher:
Harper
Publish Date:
Jan 17, 2011
Buy:
Amazon
Review Copy Provided By:
TLC Book Tours
and the publisher
Book Blurb:
An engrossing tale of a marriage that's falling apart and a wife who will stop at nothing to keep it together.
From their early days in college, Evvie and Ben were drawn to each other by feelings of isolation stemming from their wounded childhoods, passionate idealism, and zeal for music. Sheltered by their love, they weathered the challenges and trials of the imperfect world around them. But as the years passed, they grew apart. Now Ben has his sights set on a completely different kind of future—alone, or with someone else.
Convinced that Ben cannot live without her, Evvie begins to unravel, as she obsessively devises ways to reclaim the love that she cannot let go of. She gambles on a spectacularly dangerous scheme, one that may ultimately have devastating consequences.
Review:
I'm on the fence about this book. I think fans of David Nicholls'
One Day
will probably love it. There's something about Ben and Evvie that reminds me of Dex and Emma. Maybe it is the not quite a love story, love story. Or maybe it is because one character is so totally unhinged.
Either way, I have similar feelings for this book. I thought I'd love it, but it didn't click for me. I think it was because there was an absence of a "Happily Ever After" that left me down. I wanted something good for Evvie. She deserved it. She was so out in her own little world most of the time, fighting the good fight for some cause or something.
The book starts out with her being a bit off her rocker. I actually found it cruel of Ben to leave her. I wish there would have been more backstory, something that showed how Evvie reached that point and even what really made Ben look elsewhere for love.
All in all, I just felt really sorry for Evvie and I really hated Ben. The climax of the story just left me feeling more sad. Which was pretty much the same way I felt when reading
One Day.
However if you liked Nicholls' book, I think you'll love this one. Sadly, it was not for me.
What I did love was where the story was set, Pittsburgh! Hey, I'm a 'Burgh girl, or at least a suburb of the 'Burgh! The author really used the city well in the story. When she mentioned certain places I was so excited to see them in print, especially the PPG building, which is one of the most beautiful buildings anywhere.
Rating:
3 flowers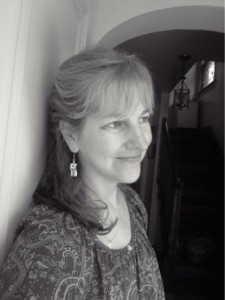 About Jane McCafferty
Jane McCafferty is the author of the novel
One Heart
and two collections of stories,
Thank You for the Music
and
Director of the World and Other Stories
, which won the Drue Heinz Literature Prize. She is the recipient of an NEA award, the Great Lakes Colleges Association's New Writers Award, and two Pushcart Prizes. She lives and works in Pittsburgh, Pennsylvania.
Jane's Tour Stops
Wednesday, February 1st:
It's a Crazy, Beautiful Life
Thursday, February 2nd:
Bookstack
Friday, February 3rd:
oodles of books
Monday, February 6th:
Walking With Nora
Tuesday, February 7th:
Literature and a Lens
Thursday, February 9th:
The Blog of Lit Wits
Friday, February 10th:
For Such a Time as This
Monday, February 13th:
A Chick Who Reads
Tuesday, February 14th:
Drey's Library
Thursday, February 16th:
No Model Lady
Friday, February 17th:
so much shouting, so much laughter
Monday, February 20th:
Indie Reader Houston
Tuesday, February 21st:
Books in the City
Wednesday, February 22nd:
From L.A. to LA
Thursday, February 23rd:
The Book Garden
Monday, February 27th:
Kritters Ramblings
Tuesday, February 28th:
Reading on a Rainy Day
Wednesday, February 29th:
West Metro Mommy