Blood and Whiskey
A Cowboy and Vampire Thriller
by Clark Hays and Kathleen McFall
Publication date: May 1, 2012
Fiction, Trade Paperback (362 pages) $14.95; e-book $4.99
ISBN: 978-0-9838200-1-7; Library of Congress Control Number: 2012902814
SUMMARY
Wanted: Lizzie Vaughan, Dead or Alive
Relationships are always hard, but for a broke cowboy and a newly turned Vampire, true love may be lethal.
After barely surviving an undead apocalypse in The Cowboy and the Vampire, Tucker and Lizzie hightail it back to quirky LonePine, Wyoming (population 438), to start a family. But she's got a growing thirst for blood and he's realizing that mortality ain't all it's cracked up to be when your girlfriend may live forever. With a scheming Vampire nation hot on their boot heels and a price on her head, how far will Lizzie and Tucker go to protect their unlikely love?
Blending evolution, religion and an overly sensitive cow dog named Rex, Blood and Whiskey drags the Vampire myth into the modern west, delivering double-barreled action, heart-pounding passion and wicked humor.
ADVANCE PRAISE FOR BLOOD AND WHISKEY
"Riveting, existentialist underpinnings give it depth, the book is a thriller, upping the ante in every chapter, as bullets fly and relationships strain under the weight of old loyalties and new revelations …"
"It's more than just the details that set this series apart. Rather, it's the way the authors utilize those details to create meaningful conflicts and world-altering choices for the characters."
"Those who missed out on the first book will really have to hang on if they want to follow what's happening, but it's worth it for this tale of love and blood in the modern West."
"Girl on Vampire-Girl Naughtiness"
Here's one of our favorite reviews from Amazon. AJBpdx shares the top 10 things they like about Blood and Whiskey:
10. Vampires
9. Cowboys
8. Awesome love story
7. Hot vampires
6. A consciousness realm called the Meta where Vampires hang
5. Nice nod to Oregon
4. There's a blood farm in it!
3. MacGyver-style weapons
2. Kick-ass female lead with an even more bad-ass side-kick
1. Girl on Vampire-Girl naughtiness
Kirkus Reviews
PRAISE FOR THE COWBOY AND THE VAMPIRE
"Deliciously dark, witty." Booklist
"A must read for fans of vampire fiction. It's one of the best in the genre that I have read this year." A Chick Who Reads Book Blog
"Rawhide romance with bloody fangs. The Cowboy and the Vampire delivers unremitting fun, and a damn good read." Diana Troldahl, Freshfiction.com
"Writing duo Clark Hays and Kathleen McFall has succeeded in writing a unique story among all the vampire books that are out there today." Bertena Varney, examiner.com
"Back from the dead!" Jeff Baker, The Oregonian
"Sexy, dark, witty, and nothing less." Erin Cole, author of Grave Echoes
SERIES PUBLISHING HISTORY
Long before Twilight and Vampire Diaries, Llewellyn published the first book of a thriller series, The Cowboy and the Vampire, in 1999, in trade paperback, with a print run of 10,000 (which sold out). It then went out of print. In response to the Twilight and Vampire Diaries mania, Midnight Ink, an imprint of Llewellyn, released a second edition in 2010 with a print run of 6,000, and, for the first time, with an e-book edition. Blood and Whiskey, the second book in the thriller series, is now being published by Pumpjack Press. Both books are by husband and wife writing team Clark Hays and Kathleen McFall.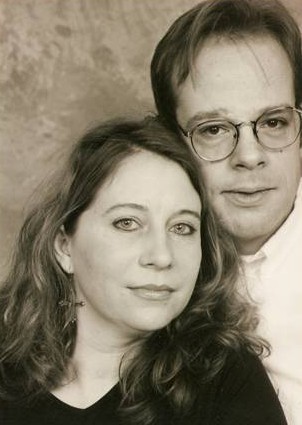 ABOUT THE AUTHORS
Clark Hays grew up in Montana in the shadow of the Tobacco Root Mountains. In addition to his fiction work, he is a cowboy, a published poet and occasional food critic. Recently, he was nominated for Pushcart Prize for short fiction and not so recently for a Rhysling award for poetry. Clark brings a deep knowledge about the modern west, weaponry, country music and existentialism to his writing.
Kathleen McFall grew up in the heart of Washington, D.C. She worked as a petroleum geologist and, later, as a journalist, and has published hundreds of articles about scientific research, energy and natural resources. An interest in the overlap of science and mysticism are an essential aspect of her fiction writing. She received an Oregon Literary Arts Fellowship for fiction writing.
Learn more at
http://cowboyandvampire.com/ and www.facebook.com/cowboyandvampire
a Rafflecopter giveaway