A Geologist and a Cloud-Watcher Walk into a Bar …
Writing together takes advantage of the power of opposites
Kathleen and I have been writing together for more than ten years now, almost as long as we've been together, yet we could not be more different. She's a geologist by training and spends most of her time watching the ground for sedimentary clues. I am a chronic cloud watcher and spend most of my time with my head in the stratosphere watching for lenticular clouds (Note: Mount Hood, near our home town of Portland, is a great place to spot them).
That difference is just the tip of the iceberg. She likes to read Russian fiction; I'm more into graphic novels. Kathleen is not a big fan of music — of any kind; I can't make it more than ten waking minutes without reaching for the iPod (the Yeah Yeah Yeahs are on in the background as I write). She's vegan; I'm vegetarian … OK, so that's not very different. She likes French movies with subtitles and whisper-thin plots that usually involve some sort of stolen look; I'm more of a horror/western/action movie junkie.
Those are just a few of the many differences between us, and exploring and focusing that tension makes our writing more than the sum of the parts. In our books — The Cowboy and the Vampire and Blood and Whiskey — the love between our hero and heroine mirrors the chaos and energy of our own opposites attract experiences.
Like us (Washington, DC; Whitehall, Montana), Tucker and Lizzie are from different worlds. Tucker is a down on his luck Wyoming cowboy and Lizzie is a reporter from New York. He was used to being by himself in the middle of nowhere with nothing but sagebrush and Rex, his long-suffering dog, to keep him company. Lizzie was used to the hustle and bustle of the capital of the world (sorry Paris but New York kind of is) and fighting to keep her space in a sea of people.
Their whirlwind romance, fueled by nights of scorching passion and, if they were honest with each other, a desperation born of the notion they would likely never see each other again, helped form a bond that would keep them together against seemingly insurmountable odds — and a horde of evil vampires.
In Blood and Whiskey, the differences between them only increase. Tucker has to deal with the fact that his girlfriend is suddenly the most powerful figure in the shadowy world of the vampires. Every single member of the undead tribes wants something from her, and some just want her dead. Lizzie just needs Tucker, and human blood, but can't bring herself to kill. Or can she?
In our books, the opposites attract nature of our own relationship allows us to so easily get inside their heads. In a romance made stronger by two almost diametrically opposed world views, we found common ground in our love of writing, and it comes through in our books. Check out The Cowboy and Vampire Thriller Series to find out for yourself.
Oh yeah, about that joke:
So this geologist and a cloud watcher walk into a bar. The geologist says, "I'll take a gin and tectonic." The bartender says, "Sorry, we don't serve your types here." The cloud watcher shakes his head and says, "Are you cirrus?"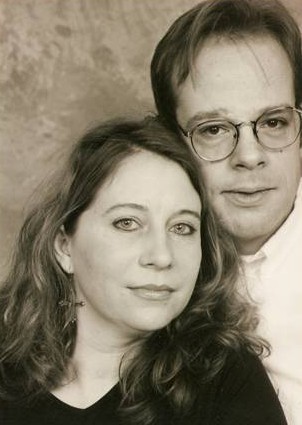 About the books

Blood and Whiskey
(Pumpjack Press, May 2012), by Kathleen McFall and Clark Hays, is the second book in the Cowboy and Vampire Thriller Series. It's a wickedly funny tale of love, loyalty and sacrifice in the modern west.
About the authors

Stuff Clark likes: sagebrush, the American West, clouds, whiskey and graphic novels. Stuff he hates: running quarterbacks, drivers who don't use turn signals and the sound of flip-flops.
Stuff Kathleen likes: Russian literature,

anarchy, martinis, lava and the ocean. Stuff she hates: in

termissions, Halloween corn mazes and high-speed vehicular sandwiches. And the Muppets.
Find out more about The Cowboy and the Vampire Thriller Series:
A Cowboy and Vampire Thriller
by Clark Hays and Kathleen McFall
Publication date: May 1, 2012
Fiction, Trade Paperback (362 pages) $14.95; e-book $4.99
ISBN: 978-0-9838200-1-7; Library of Congress Control Number: 2012902814
Wanted: Lizzie Vaughan, Dead or Alive
Relationships are always hard, but for a broke cowboy and a newly turned Vampire, true love may be lethal.
After barely surviving an undead apocalypse in The Cowboy and the Vampire, Tucker and Lizzie hightail it back to quirky LonePine, Wyoming (population 438), to start a family. But she's got a growing thirst for blood and he's realizing that mortality ain't all it's cracked up to be when your girlfriend may live forever. With a scheming Vampire nation hot on their boot heels and a price on her head, how far will Lizzie and Tucker go to protect their unlikely love?
Blending evolution, religion and an overly sensitive cow dog named Rex, Blood and Whiskey drags the Vampire myth into the modern west, delivering double-barreled action, heart-pounding passion and wicked humor.
ADVANCE PRAISE FOR BLOOD AND WHISKEY
"Riveting, existentialist underpinnings give it depth, the book is a thriller, upping the ante in every chapter, as bullets fly and relationships strain under the weight of old loyalties and new revelations …"
"It's more than just the details that set this series apart. Rather, it's the way the authors utilize those details to create meaningful conflicts and world-altering choices for the characters."
"Those who missed out on the first book will really have to hang on if they want to follow what's happening, but it's worth it for this tale of love and blood in the modern West."
PRAISE FOR THE COWBOY AND THE VAMPIRE
"Deliciously dark, witty." Booklist
"A must read for fans of vampire fiction. It's one of the best in the genre that I have read this year." A Chick Who Reads Book Blog <------- This is me! Squee
"Rawhide romance with bloody fangs. The Cowboy and the Vampire delivers unremitting fun, and a damn good read." Diana Troldahl, Freshfiction.com
"Writing duo Clark Hays and Kathleen McFall has succeeded in writing a unique story among all the vampire books that are out there today." Bertena Varney, examiner.com
"Back from the dead!" Jeff Baker, The Oregonian
"Sexy, dark, witty, and nothing less." Erin Cole, author of Grave Echoes