Today we welcome Cynthia Ellingsen to A Chick Who Reads! Welcome Cynthia!
Hi there, A Chick Who Reads! Thanks so much for hosting me.
I just returned from the RWA conference in Anaheim, so love and romance is on my mind. Many readers ask about writing love scenes and love stories, so I wanted to discuss things that I think are critical to include when creating a good love story.
Five Critical Components to Writing a Love Story
1.
The Instant Connection
Call it Cupid's arrow, pheromones or whatever, but the instant connection is a critical component to any good love story. In Hollywood romantic comedies, there's always that super cute moment where two characters who are meant to be together meet, right? Well, every good love story should have an equally poignant moment. Because we all remember "that moment" in our real lives, yes?
2.
The "I See You" Moment
Part of the reason we fall in love with somebody is because they show us the world in a way that no one else has. That often means showing us something about who we are that we haven't quite figured out yet. In a good love story, it's important for the romantic interest to be the one to point out that key component where the hero still needs to make a change.
Yes! It HAS to happen. Whether in the character's head, in a shared glance or actually in the bed, the steamy hook-up is a critical part to any love story. Don't get me wrong - I'm not saying that you HAVE to write a sex scene or anything if it doesn't serve the story. But you have to create enough attraction/tension/longing that we, as readers, yearn for your character to finally fall into his arms for a kiss.
4.
The Big Misunderstanding or Obstacles
There's a reason why Romeo and Juliet was one of the greatest love stories ever told. It's because these poor lovers hit one roadblock after another when they finally gave over to the fact that they'd fallen in love. Create these roadblocks for your lovers! That makes the moment where they finally live happily ever after that much sweeter. (Or super sad, depending on whether or not we're still talking about Romeo and Juliet, here.)
5.
The Promise of a Future Together
Commitment. When your characters fall in love, we don't want any glimpse that they might just live together for awhile and have it not work out. No, no. We want wedding bells, all the way. Make sure your story incorporates an ending where we are left feeling like this great love story is going to withstand the test of time.
Alright, there are my five things that every love story should have. Go ahead, add to the list in the comments section below! Looking forward to hearing from you.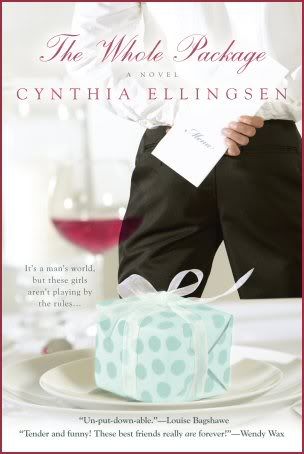 Title: The Whole Package
Author: Cynthia Ellingsen
Publisher: Penguin/Berkley
Length: 409 pages
Genres: Contemporary Women's Fiction (Comedy)
Life has thrown childhood friends Jackie, Cheryl, and Doris a few curveballs. Widowed and broke, Jackie returns home after an extravagant life in Paris, Doris is reliant on anti-depressants, and Cheryl's plans for a corporate take-over are replaced with walking papers. But after a drunken night sampling the delights at strip club for women, the ladies stumble upon a genius idea and decide to open up The Whole Package—the world's first restaurant staffed exclusively by very attractive men. Armed with Jackie's connections, Doris' ambition, and Cheryl's business sense the ladies set out to make their mark in the world.
French is a sexy language. Except, of course, if you are standing in line at a French café and the French you hear is a nasal, drawn out, "Fat American." Unnecessary, especially if you are simply trying to buy a chocolate croissant to dip into the first cappuccino of the day.
Jackie - and yes, it was Jackie and not Jacqueline even though she was closing in on forty instead of the throat of the snickering girl behind her – whirled around.
"Did you just call me fat?"
A French girl stared back at her. The girl had the audacity to cock her head. A yes.
Jackie was stunned. Okay, fine – and a little hurt. Such a judgment was the last thing she expected in this cheerful neighborhood cafe with its brightly painted walls, kitschy produce art and erratically placed wildflowers. Even the French sayings on the wall, written in such careful, scrolling script were meant to inspire good cheer, not snappy little insults.
"Well, I am not fat!" Jackie said. And this was
not
in French, because after two years in the country she spoke French perfectly and proving it was no longer important. "I am
sexy.
"
A mustached host had been writing out specials on a blackboard with squeaking chalk. At this, he paused and took a look. Jackie ran her palms over her curvy hips and considered giving a slight shimmy. The man gave a nod in agreement and went back to the specials.
The French girl sniffed. She was dressed all in black, a total cliché. She was holding a sniveling, trendy dog. Its shaky face was framed by a bejeweled collar and its droopy eyes stared, along with everyone else in the cinnamon scented café.
"Perhaps
you
should order something to eat," Jackie said, pointedly eyeing the girl's bony frame . "You're probably just suffering from low blood sugar."
Jackie's jaw dropped. Drawing herself up to her full height of 5'3" (5'6" with her three inch pumps), Jackie said, "If you want to live off of cigarettes and red wine and ignore the delicacies your country has to offer, you go right ahead. But I would rather get chased out of Le Bon Marche by a firing squad than strut around in a body that looks like it was stolen from an eight-year-old boy."
"I am going to
embrace
my sensuality," Jackie said. "I am going to improve upon it. And," she stood a bit taller, "it is gonna happen with a chocolate croissant."
"The friendship between the women is realistic, the characters funny, and the premise well-executed. Readers will giggle and grin from start to finish, and will surely be eager for Ellingsen's next novel."
--PublishersWeekly.com
"The Whole Package is a delightfully frivolous romp. An excellent beach read, this light but enjoyable fare will have you chuckling (and likely blushing!) throughout..."--
RT Reviews
Cynthia Ellingsen is a fiction writer and screenwriter. She lives in Lexington, KY with her husband.
Complete Tour Schedule: CBLS
a Rafflecopter giveaway