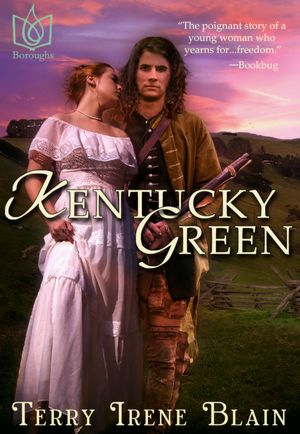 Today we're welcoming Terry Irene Blain to A Chick Who Reads. Terry is the author of Kentucky Green and Colorado Silver, Colorado Gold. Don't forget to enter the giveaway at the end of the post!
Her topic: A real Someone Who has been a Character Inspiration.
One of the best things about writing is making up the characters to tell your story. When I was writing Kentucky Green, I had a hero, Dan, who tended to be taciturn in general, as well as trying to avoid his attraction to the heroine. Given the way I set up the beginning of the story, my heroine, April, was the only woman on the wagon train, so she had to have someone to talk to, and find out information about the hero.
The character inspired by a real life person in Kentucky Green is Tucker, the old teamster who has known Dan "…since he was in shirttails." Secondary characters are often the most fun to write. They are easier, too, as they can be a little more caricature-like. Tucker is the talkative teamster who drives the wagon carrying April. So Tucker is a fount of stories, tales, and, of course, information about Dan (not only for April, but for the reader).
The name Tucker came from the actor Forrest Tucker (probably best known for playing Sgt. O'Rourke in the old television show F-Troop. Okay, I spent a lot of my childhood watching TV and reading). That's how I pictured Tucker in my imagination. But his character came from my family.
A little about my family: My parents moved from Illinois to California when I was seven, but every year we drove cross country from Southern California to Western Illinois for our vacation visiting relatives. I spent many summer family reunions sitting on the front porch with all the uncles, great uncles, and my grandfather listening to their stories. They talked about growing up on the farm in the early 1900s, or retelling stories their parents and grandparents told them. So when I wanted my character Tucker to talk, I just imagined by great uncle Cecil and his brother Earl teasing each other. I borrowed their syntax and vocabulary to make Tucker a real character to me.
To help make Tucker's dialogue stand out I had him drop his 'gs' from his word endings. The spell checker hated him, but I'm very fond of Tucker. He brought back the memories of my great uncles and those hot summer days sitting on my grandparent's front porch soaking up my family's history. Thanks, Tucker, for letting me relive those times.
Terry Irene Blain Bio:
Terry Irene Blain was lucky enough to grow up in a large Mid-western family with a rich oral tradition. As a child she heard stories of ancestors' adventures with Indians, wildlife, weather and frontier life in general, so she naturally gravitated to the study of history and completed a BA and MA then taught the subject at the college level. Married to a sailor, now retired, she's had the chance to live in various parts of the U.S. and has traveled to Hong Kong, Australia, England and Scotland.
"My degrees and my teaching experience make me a natural to write historical romance. Writing historical romance gives me the opportunity to pass on stories of who we are and where we come from while exploring the relationship between men and women. What could be more exciting than that?"