Author: Susan McBride
Title: The Truth About Love & Lightning
Publisher: William Morrow
Publish Date: February 12, 2013
Buy:
Amazon
Book Blurb:
As far as Gretchen Brink is concerned, the tornado that just ripped through her land has nothing on the storms of a different sort happening all around her. Her grown daughter, Abby, has returned home with news that she's pregnant, and no, she's not sure whether she's going to marry the father. A man with no memory has been dropped practically on her doorstep. And the not-so-little white lie she's been telling for years is about to catch up with her.
Abby is sure that the mysterious man is her long-lost father, Sam, who has finally returned just when she needs him most. As Abby, Gretchen, and the Man Who Might Be Sam get closer, the lie Gretchen told all those years ago begins to haunt her. When her secrets come out, and Sam's past is finally revealed, will it tear down this fragile life they've built—or will the truth bring them all closer together?
Review:
Sometimes a book grabs you from the very first page and won't let go of you until you finish it. The Truth About Love & Lightning is one of those books. Maybe it is because the opening pages involve a tornado that seems to blow over Gretchen's farm, but does little damage, other than dropping a man onto their land.
It is hard to pinpoint why the book is so engaging. The characters lead mostly normal lives and have the usual problems. Maybe that is it, Gretchen and her sisters, Trudy and Bennie and her daughter Abby seem normal, but Gretchen has a secret and it deals with the man Abby believes is her father.
Very early on, you can guess this secret and you know why Gretchen told the lie she did when she was 17, but as the author gives you the back story of Gretchen and Sam Winston and Sam's grandfather, well, you get a tell of love that didn't get a chance nearly 40 years earlier.
It is that back story that is fascinatingly beautiful with the Native American elements and rich emotion. As Susan takes us back to Hank Littlefoot's days as a vaudeville performer, to Sam's blossoming love for Gretchen you can't help but be moved by the characters. You fall in love with them for their goodness and for the love they feel for each other.
More important than the lie that Gretchen told is how Sam was able to conjure rain and lightning, just as his grandfather had before him.
This story is one where the characters are really the reason you keep reading. The plot is whimsical, light and sweet. The characters will stay with you long after you've turned the last page. I highly recommend this book to anyone.
Rating:
5 flowers (I'd give it more it was that good)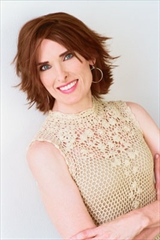 About Susan McBride
Susan McBride is the author of women's fiction, including The Truth About Love and Lightning, Little Black Dress, and The Cougar Club, as well as the award-winning Debutante Dropout Mysteries. She calls herself an "accidental cougar" after meeting a man nine years younger in 2005 when she was a St. Louis Magazine "top single." They were married in February 2008 and live happily ever after in a suburb of St. Louis. She is a six-year breast cancer survivor and often speaks to women's groups about her experience. In January 2012, she was named one of St. Louis' "Most Dynamic People of the Year" by the Ladue News. In April 2012, she was given the "Survivor of the Year" Award by the St. Louis affiliate of Susan G. Komen for the Cure. In late June of 2012, Susan and her husband, Ed, had their first child, Emily. As Susan likes to say, "Life is never boring!"