Author:
Keta Diablo, Amber Scott, Stacey Kennedy, Elise Hepner
Title:
Kissed From Beyond
Publish Date:
Publisher:
Goodnight Publishing
Buy: Amazon
/Smashwords
Review Copy Provided By:
The author and
Book Lovin' Bitches Ebook Tours
Book Blurb:
"Cradle of Dreams" by Keta Diablo
With visions of battle still fresh in his mind, Roane Bradfield returns home to find the woman he loves betrothed to another. He corners Kendrick Moreland at Dowager Huggins' Grand Ball and whisks her into the secluded library. One way or the other, he will know the reason the duplicitous beauty cut him from her life when she promised to wait forever.
Kendrick can't believe her eyes when Roane suddenly appears at the ball. Has he truly risen from the dead? Amid wagging tongues and hushed murmurs, the fantasy of her every dream whisks her from the ballroom. And the expression on his face is anything but loving. Revenge, danger and powerful love collide in the Cradle of Dreams.
"A Love Soul Deep" by Amber Scott
If only Sara had known no man would ever make her feel like Crew did, she would have let him love her. A regret that can never be undone. His death haunts her dreams and her wishful thinking only reminds her of everything she has lost.
Years later, a visit to an antique store in sultry Savannah changes everything and makes her deepest wish come true. Her beloved returns to her. Her every fantasy gets the chance to be fulfilled. But she wants more than one night. She wants a lifetime and wonders what magic will let her keep A Love Soul Deep.
"One Rub More" by Elise Hepner
Flynn has been cursed for over a century for a social slight he never committed. A voo-doo priestess hexed him and forced him into a teapot where he could only be summoned by the rub of a woman's palm. Once free, he grants these women three sexual favors—and cuts off his own emotions in the process. Unable to break free from an invisible cage of lust and sex to fall in love again, he's resigned to being a sex object and nothing more.
Helena has been house sitting far, far away from her complicated past in England— including her former childhood sweetheart, who wasn't satisfied when Helena didn't want to be barefoot and pregnant. But she's resigned to leave behind the complications of men and sex. She hopes that logic will win out over her unreliable emotions—but she's put to the test when she accidently summons Flynn from his teapot prison.
Little do they know, they'll both get what they wished for, even if it's not exactly what they envisioned.
"'Til We Meet Again" by Stacey Kennedy
Ethan Thomas has spent years alone,forever trapped between worlds. Once a soldier in the Civil War, he's now a ghost bound to a chaise lounge that once belonged to him. He's spent centuries lingering in Savannah, Georgia, waiting to be saved…
Cassandra Cole is an interior designer who has been hired to restore an old Victorian home. But as she begins to furnish the home strange happenings begin to erupt around her. She suspects the house is haunted. Determined to find out, Cassie will set out to discover who this ghost is, why she feels a connection to him, and what she has to do to free him will surprise her in ways she couldn't have imagined.
**Intended for a mature reading audience age 18 and over.**
Review
This is one of the first ebooks that I've ever been drawn to because of the cover. It is simply stunning. The four stories are super short, all around 25 pages long. So in some cases it feels like a bit of a wham bam thank you ma'am sort of thing, but oh are they steamy.
All of the stories center around an antique store in Savannah, GA and the items for sale or purchased there.
In Keta's Cradle of Dreams a love story from the past comes to the present. The story centers around a civil war soldier who returns home to find his love betrothed to another.
Roane was a bit of an angry and horny alpha male. In some ways I could understand his anger at Kendrick for moving on, but it was also unreasonable.
I loved the historical aspect of this story. Roane was a bit more than a domineering soldier back from the war. You could really feel his frustrations. I wasn't as fond of Kendrick though. It was obvious that she was in love with Roane. Betrothed to another or not, I couldn't understand her actions toward Roane at times.
The sex between those two was explosive and well written. Definitely a get hot and bothered story.
The return to the present was a nice touch. I also loved Calypso, who seemed to be in two time frames.
Amber Scott is one of my favorite Indie authors, and she was the main reason I wanted to read this anthology. Again, she did not disappoint. "A Love Soul Deep" is just a gorgeous, sexy story about a second chance.
I'm not quite sure how the love affair in this story really worked out..was the guy with Sara a ghost? Either way, Sara got the chance to fulfill her dream of making love to Crew, the boyfriend that was killed in a car accident years earlier.
This story was truly heartbreaking and emotional. The love between Sara and Crew really transcended life and death. This was my favorite story of the bunch. It managed to heat things up but it also tugged at the heartstrings. And the ending! OMG I won't give it away, but even though the ending isn't quite the happily ever after most would expect, the ending is perfect! This is a must read story!!
If Amber's was the best story, Elise Hepner's "One More Rub" had to be the most fun. A genie that grants 3 sexy/naughty wishes. Yes, please! More, please!
The concept was adorable and a cold shower is a must after all the steamy sex between Flynn and Helena! I liked the backstory about the curse that landed Flynn in the teapot as well. This story was sexy cute!
The last story is "Til We Meet Again" this is another "ghost lover" story. I actually wanted more of this one because I thought it need more. Not that I disliked anything in the story. I loved Ethan and Cassie, I just wanted to get to know them both better. When the story ended, I felt let down that I didn't know either of them enough.
I really enjoyed all 4 of the stories in this anthology, in varying degrees. I just wish they were all a bit longer. They weren't really novellas because they were only about 25 pages each. I look forward to reading full lengths by the three authors that are new to me from this, and as always, if there is anything by Amber Scott out there, I suggest everyone read it.
Rating:
4 flowers
Author Info:
Keta Diablo
Website
/
Blog
/
Goodreads
/
Twitter
/
Facebook
Amber Scott
Blog
/
Goodreads
/
Twitter
/
Facebook
Elise Hepner
Blog
/
Goodreads
/
Twitter
/
Facebook
Stacey Kennedy
Website
/
Blog
/
Goodreads
/
Twitter
/
Facebook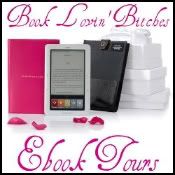 ~ There's still time to enter the contest to win an ebook by one of the authors from Kissed From Beyond. Check out this
post
for details