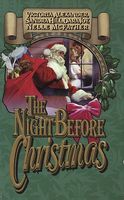 Author:
Victoria Alexander, Sandra Hill, Dara Joy & Nelle McFather
Title:
The Night Before Christmas
Publisher:
Lovespell
Publish Date:
Nov 1996
Rating:
4 stars
Book Blurb:
PROMISES TO KEEP by Victoria Alexander: A lonely business woman, who refused marriage to her true love during World War II, gets the chance to relive her life, and share the passion yet again, thanks to the help of a department store Kris Kringle.
NAUGHTY OR NICE by Sandra Hill: Follow the adventures of a young beauty named Jessica, who dresses as Santa Claus one night so she can commit a robbery, but ends up taking a hostage who turns out to be her one true love. And the only person whom she can trust.
SANTA READS ROMANCE by Dara Joy: A romance writer decides to take some time to herself in a secluded cabin so she can finish her latest masterpiece. When a publisher dressed as Santa Claus arrives during a snowstorm, she experiences something that she has only experienced through the characters in her novels.
A GIFT FOR SANTA by Nelle McFather: A young widow and her daughter decide to spread Christmas cheer throughout their small town, during which she finds a perfect husband for herself, and a perfect father for her daughter.....
Review:
Promises To Keep by Victoria Alexander was definitely the best story of the bunch. A story of second chances that will having you crying on the last page. I really loved the second chance Katie was given to redo her life however bittersweet the story may end up. She fixes the mistakes she made the first time around and ends up a totally different person in the end.
Naughty Or Nice was cute but very unrealistic...from the heroine sticking up a Piggly Wiggly, which they don't have in Pennsylvania to the hero just happening to be friends with Janet Jackson and Bill Gates. Of course all the mayhem is surrounded by a bunch of bad kids that are good at heart ....oh and they are all orphans. Yeah...this one was a bit too sticky sweet, even when the sex was getting hot and spicy.
Santa Reads Romance by Dara Joy was another great funny read. It has the typical stuck in a snowstorm thing going on, but the hero is a publisher and the heroine a romance novelist. There's also a matchmaking Santa and a cute wiener dog. Who can resist a story with a cute dog? I sure can't.
I also loved how Hunter wooed May with scenes from the novels she brought with her to the cabin to work. It was so hard not to laugh out loud while reading this one.
The last story was A Gift For Santa by Nelle McFather. This one was the family story. A widow and her daughter and a lonely sad neighbor. It definitely made for some Christmas magic.
Two out of the four were really great the other two were cute. So all in all this was a good holiday read.