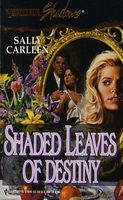 Author:
Sally Carleen
Title:
Shaded Leaves Of Destiny
Publisher:
Silhouette Shadows #46
Publish Date:
Nov 1, 1994
Book Blurb:
The man at the top of the staris
A menacing silhouette at the top of the stairs waited for the woman to approach - and then it struck! When she woke from her near-deadly fall, Amanda struggled to merge two sets of memories separated by decades. One set she recognized, but where had the other come from? Was she really divorcee Amanda Parrish - or abused wife Elizabeth Dupard? And in either life, what part did the mysterious Dylan Forrest play?
As Amanda's present became more real, her fascination - her obsession - with the handsome stranger whose consuming touch felt hauntingly familiar - hauntingly terrifying - grew even more powerful. Had Dylan loved Amanda before? Would he love her in this lifetime? Or did Dylan simply want Amanda...dead?
Review:
This is one of the best Silhouette Shadows that I've ever read, and I've read many from this line. This story deals with reincarnation, and it does so really well. The romance almost takes a back seat to the struggle of Amanda/Elizabeth.
Amanda's struggle with what she thinks is amnesia and the discovery of the tragedy of Elizabeth Dupard's life makes the story all the more gripping. She doesn't know who to trust, her ex-husband Phillip who is trying to reconcile or her handsome neighbor Dylan who is always there at the right time.
The best part of this book is learning about Elizabeth's life and solving the mystery of her death.
Sally really did a great job with this story. It read like a gothic romance, but without a lot of the drama that usually goes with those. Oh and the mystery? Even though you had a clue as to who was reincarnated as who, you really didn't expect them to be as evil as they turned out to be.
I wish the Nocturne line went for more storylines like this than the typical vampires and wereworlf stuff that seems to be the thing these days.