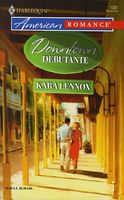 Kara Lennox's Downtown Debutante is a fun, fast-paced and often funny read. Its the second book in the author's Blonde Justice series and focuses on Brenna Thompson an artist swindled by an ex-lover and Heath Packer who wants to put her in jail for a crime that she didn't commit.
There's so much to love about Brenna, from her quirky fashion sense to her unladylike appetite! I love that she's always eating or wanting to eat. I also love her passion for her art, which is jewelry making and her passion for seeing her ex, Marvin brought to justice before he can swindle someone else.
Kara's three ladies, Cyndi, Brenna and Sonya are really memorable characters. I love the bond they share, even if it is that they are all victims of a crime.
Heath is the only one I have just a bit of a problem with. He's the perfect hero, but I think as an FBI agent, he trusted Brenna much too quickly. Even if he was questioning whether he still wanted to be part of the FBI, I think he would have been more thorough, and he definitely would have known that they would have had Brenna's phone tapped.
Aside from that, I loved the story, especially the night they spent in the French Quarter in NOLA, drinking hurricane's and getting drunk.
Lennox's characters really get to you, and make you feel like you're their friends. She also blended just the right amount of passion with suspense to satisfy the reader. This was a great read!