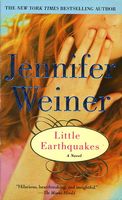 Little Earthquakes is a novel of friendship, motherhood and loss. Jennifer Weiner has really created a wonderful story that you don't want to put down.
The novel revolves around the lives of 4 women, three who meet at a yoga class during their pregnancy and a fourth who has returned home to recover from the loss of her child.
All three women experience a "little earthquake" that rocks their world and changes their lives.
The women's struggles with their pregnancies and dealing with their new additions were depicted perfectly. None of the women had it easy and the outside forces.
Becky is a chubby chef with daughter Ava and mother-in-law, Mimi who would try the patience of anyone.
Kelly is an events planner with baby Oliver and an out of work husband that is enjoying his unemployment more than she'd like him.
Ayinde is a newscaster, with preemie, Julian. She is married to a professional basketball player who does the unthinkable.
All three of these women are tied together by Lia, an actress who returns home to put her life together. Together she helps them with some of their smaller problems and they help her with her grieving process.
It was hard not to love every character because their problems were those that so many women face daily, trying to juggle their lives and motherhood. But what really made me love this book was how the bonds of friendship never broke once.
This is one of those books that will have you feeling a wide variety of emotions while you read. This was a fantastic book!