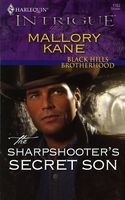 Author:
Mallory Kane
Title:
The Sharpshooter's Secret Son
Publisher:
Harlequin Intrigue #1162
Publish Date:
Oct 2009
Rating:
4 stars
Mallory Kane's The Sharpshooter's Secret Son is the third book in the Black Hills Brotherhood mini series.
This book really made me nervous while reading it. Mindy Cunningham is being held captive by one of the world's most despicable terrorists and its her ex-husband Deke's job to get her back to freedom.
Deke is a sharpshooter for Irina Castle's Black Hills Search and Rescue and there's something that he knows that has put his ex wife's life in peril.
Things get complicated when Deke gets captured trying to rescue Mindy, and when they are thrown together again he discovers that she is pregnant with his child.
The knowledge that Mindy was pregnant made the storyline feel even more tense. It left you worrying not only for her safety but for the baby's as well. Things were really working against them. Deke was hit with the taser more times than anyone ought to be and still he goes on, doing his best to get his ex-wife out. Plus every time they seemed close to escape their captors found them.
Mallory really knows how to write a good thriller, and this was more thriller than romantic suspense. You got a happily ever after, but the storyline doesn't end here, so the terrorist is still out there waiting for a chance to get Idina Castle to find out what she knows about her husband's death.
I haven't read the other books in this series, but this one was so good, that I'm going to have to hunt them down