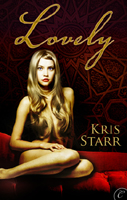 Author:
Kris Starr
Title:
Lovely
Publisher:
Carina Press
Publish Date:
June 21, 2010
Rating:
3 Stars
Book Blurb:
They call me Lovely. But I know I am not.
Once I had another name. Now, as Angelique, I do what I can to please les messieurs. What would they say if they knew I felt no pleasure? To them I am wanton, insatiable. I alone know the truth.
So I am mystified by my reaction to my latest caller. Alexandre. Handsome. Well-bred. With an air of innocence that intrigues me. And true pain in his eyes. A mere kiss on the hand inflames me as never before. In moments this man disconcerts me like no other, and soon I can think of nothing, no one else. And yet, he barely touches me.
I know my true purpose is to mend his wounds, but I wonder what lustful appetites are buried deep within him. I will do what I can to discover his secrets...
Review:
This is a super short ebook at only 53 pages, but it packs a lot of heat into those pages, though a lot of that spice isn't between Angelique and Alexandre.
It's not a rather inspired tale, but it is told well, it reads like Anais Nin light.
You get only Angelique's point of view, which at times leaves a lot out, particularly when they were out and about after dark in Paris and Alexandre sees a woman that reminds him a great deal of his dead wife. His actions really don't seem right. One minute he's ready to go the whole way with the courtesan he's paid for, and the next minute he's all apologetic.
It really would have been wonderful to have a little more backstory on him. Kris did give her readers a bit of Angelique's past, which made her easier to understand, but leaving Alexandre a mystery was a bit of a let down.
The ending was a bit rushed but it did suit Angelique. It wasn't the happy ending most would expect, but it wasn't sad either. This was a quick read, and a good beside the bed story. I'd like to see a full length by Kris Starr.
~ ebook provided by Net Galley