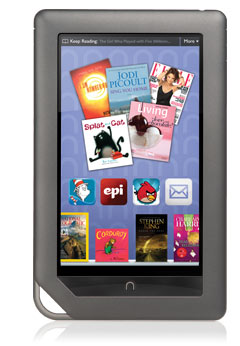 My b-day present arrived via UPS this afternoon?
As you can guess from the picture it is a Nookcolor!
I'm so excited!!
I bought my little wifi Nook last year a few months before they announced the release of the color. I fell in love with that ereader on the spot.
I can't wait to get some time to play with it. And play angry birds on it.
Yeah, I'm an angry birds addict!!
Now I have to buy a cute case for my new Nookcolor! Wouldn't want it to feel left out, since my wifi has a pretty pink jacket and a blue silicone cover.