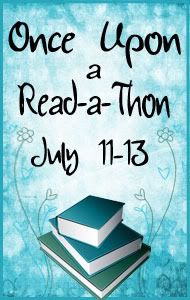 Today is the last Read-A-Thon day! Two more mini challenges! I love doing these.
The first comes from Ashley @
Books from Bleh to Basically Amazing
She wants Book Recommendations
The first
is
any
book of your choice. Pick any book you want and tell me and the world why it should be read and loved.
The second
is what you would pick as your
favorite of the read-a-thon
.
For the first part of this challenge I choose Amanda Stevens
The Restorer. I reviewed this book for Rex Robot Reviews about a month ago and I absolutely loved it.
There just aren't many mysteries out there involving cemetery restorers who can see ghosts!
I really found the plot to be unique and the mystery one that kept the pages turning. There was a touch of romance and some sexual tension there to spice things up too. I consider this one of the best books from 2011. It is a definite MUST READ!
As for the read-a-thon favorite...that's a bit tricky. I didn't have nearly enough time to read in these last 3 days.
It is the story of my life.
Of the three books I've read, Me Myself and Paris is my favorite. It is a memoir of humorous stories about the writer's time in...well...it is obvious right? Paris! After reading French Toast, I wasn't expecting anything great, but this was funny, and it reaffirmed my belief that Paris is overrated! Still, it was a short fun read!
The next challenge of the day comes from Wicked Awesome Books
We all enjoy a good love story (don't deny it!), but sometimes the two (or three or four) characters involved in a love story struggle so much, that I just want to say, 'hey, _____ would be so much better for you!' So in the spirit of matchmaking, I'm setting you with the task of playing cupid and shooting your arrows at two characters from different books in, what I'm calling, LET'S PLAY MATCHMAKER!
This is a hard one for me and one that makes me want to let out my inner snarky girl.
I'm going to take Stephanie Plum. This girl has a crazy awesome love triangle going one with Morelli and Ranger, but she just can't seem to commit to either of them. It is very frustrating. Maybe she needs someone different? She definitely needs someone to keep her out of trouble or at least get her into fun trouble..so lets give her Jameson Rook from the Nikki Heat books by..erm Richard Castle. They would have fun solving mysteries and that would end the Nikki Heat angst for the time being!