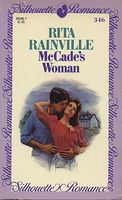 Author:
Rita Rainville
Title:
McCade's Woman
Publisher:
Silhouette Romance
Publish Date:
March 1985
Rating:
4 Stars
Book Blurb:
She thought Jake was a swaggering cowboy. He thought Shanda was a snooping iceberg.
Shanda St. James made documentary films in L.A. Usually her subjects were mere sparks for her creative imagination.
But a trip to Oklahoma's sprawling oil country revealed an intriguing--and personal--story.
Jake McCade, heir to the McCade oil fortune, knew his family secrets, and was determined to keep them in the family. But Shanda posed a threat to his-privacy, as she delved more and more into the past. Her curiosity brought out more than family history--it made him determined to make her McCade's woman!
Review:
For an old Silhouette this was really a great read. So great that it was reissued in the 90s in a series called Western Weddings. This was really a cute story. Shanda makes documentaries and her aunt is deeply into geneaology. Thanks to an injury, Shanda finds herself on her way to the McCade's to look up old family history.
What really made this story was the heroine's ability to not fall into bed with Jake in the first 50 pages. Actually, since this was an old romance line book, they didn't fall into bed at all!! And that wasn't for want of trying on Jake's part, and that really made the story funny.
Shanda was really a strong character. She stuck to her values and was a real career woman, not letting her hormones get in the way. She wasn't a prude though, she just had good values and also a really good sense of humor and she gave as good as she got with both Jake, his father J.B. (there's a really funny part when she calls him by his real name which is quite feminine) and her ex-Lee.
The only thing about the characters that really freaked me out was when they were discussing their musical tastes at one point. Willy Nelson and Roger Whittacker!!! OMGWTFBBQ! I can understand Willy, especially as this book was set in the south, but Roger Whittacker! He was a little out of the norm even in the 80s.
Other than that little thing, this book definitely stood the test of time and is one worth reading if a copy falls into your lap!