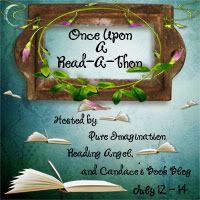 The Eager Readers
is hosting a mini-challenge for the read-a-thon.
Mini Challenge Part 2: Post about a crossover couple you would love to see and enter to win a copy of City of Bones by Cassandra Clare!
There is one that comes to mind as soon as I saw this question
Bella Swan from The Twilight Saga
Lestat from The Vampire Chronicles
I would love to see how Bella would react when she found out that vampires don't sparkle and for the most part, they aren't very nice. Bet that would stop her whining a bit!