From
Sheila
@ Book Journey.
This is the meme where we discuss what we've read in the past week and what we plan to read in the coming week.
What I read last week
I really had a bad reading week last week. I blame The Twilight Saga for that. It took me 3 days to get through New Moon. AHHHH
Anyway this was last week's reading
Day LeClaire - Accidental Wife
Stephanie Meyer - New Moon
Rita Rainville - McCade's Woman
What I plan to read this week
Right now Once Upon A Read A Thon is going on. So I'm going to try to widdle my pile of Harlequin's down by a few. Then I plan on reading Paul Is Undead.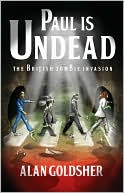 Since I'm a huge Beatles fan and have been since I was about 5 years old, I just had to get this book.
I'm not one to read the books like Pride And Prejudice and Zombies, but turn the Beatles into Zombies and I'll definitely want to check it out.
I wonder how John would feel about being a zombie?
Oh and coming up likely towards the end of the week, my first author interview with Emma Michaels, who will be releasing her debut novel on August 13th!