Another fun book meme care of Should Be Reading.



What great books did you hear about / discover this past week?
So many books! So little time!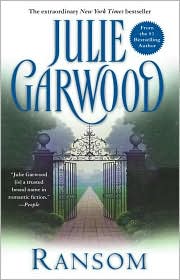 Julie Garwood - Ransom
Julie Garwood has returned to her original calling in the romance genre with her phenomenal new novel, Ransom, her best yet. Garwood is at the top of her form with this twisting tale of passion and deceit. When their father was murdered by Baron Alford, sisters Christen and Gillian were small children — but as the years pass, and the young girls grow to adulthood, love and vengeance will grow with them. A strong return to the medieval historical romance for which Julie Garwood is so beloved, Ransom is worth any price!
Fiona Mountain - Lady Of The Butterflies
They say I'm mad and perhaps it's true.
It is well known that lust brings madness and desperation and ruin. But upon my oath, I never meant any harm. All I wanted was to be happy, to love and to be loved in return, and for my life to count for something.
That is not madness, is it?
So begins the story of Eleanor Glanville, the beautiful daughter of a seventeenth-century Puritan nobleman whose unconventional passions scandalized society. When butterflies were believed to be the souls of the dead, Eleanor's scientific study of them made her little better than a witch. But her life-set against a backdrop of war, betrayal, and sexual obsession-was that of a woman far ahead of her time
Ellen Schreiber - Vampire Kisses: The Beginning
A new guy in town.
Rumors of vampires.
Dangerous first love.
This is where it all begins. . . .
The mansion on top of Benson Hill has stood empty for years. But one day it seems to be occupied, and its mysterious, handsome inhabitant Alexander Sterling becomes the source of much talk around town. Raven, a vampire-obsessed Goth-girl who has always considered herself an outsider in "Dullsville," is determined to uncover the truth surrounding the secretive Alexander. As she gets to know him, and their spark intensifies, Raven finds herself in some unanticipated situations. Can Alexander make her lifelong dream come true? But love always has its complications—especially when it can only be awakened at nightfall.
The first three books in Ellen Schreiber's bestselling Vampire Kisses series capture the thrill of a most unusual romance.