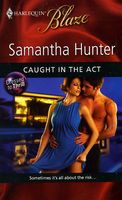 Caught In The Act
is a fine piece of reading by Samantha Hunter. Its got a little bit of everything, romance, suspense, hot steamy, make you want to take a cold shower sex, and wacky relatives. These things always make for great story, and Samantha Hunter does not disappoint.
Gina is a food critic who will do just about anything to get her little sister Tracey out of trouble, including breaking into a lawyer's office to steal pictures of her sister in several compromising positions. But when she finds them, that's when things get shaken up, especially when she ends up getting hot and heavy with the lawyer, Mason.
When its discovered that Tracey's boyfriend is more than it seems, The FBI comes in and it seems like everyone is in danger, in more ways then one.
Gina is really interesting character. I love how she loses her inhibitions when she's in costume at Mason's house, when they first meet and later when they are in the safe house, and he buys her clothes. When's she's dressed sexy, she can be sexy. That's probably the case for many women. But what really makes Gina so endearing is her devotion to her sister. I don't think many people would stoop to theivery to save a siblings ass, when it was pretty much a given that they were in the wrong.
Mason is a great hero too, though I think he was probably more lenient than any "real" man would be when he discovered that the woman he was about to make love to was using him to get evidence. Aside from that, he was very admirable, he protected Gina, even when she was doing something totally stupid, like endangering their lives to talk to her sister.
The characters were all well rounded, even the secondary one's like Tracey and her husband Rio, who's relationship was almost a mini-story within this story. This really helped to make the reader feel like they knew the characters and not just as an observer to their lives.
The suspense was really a surprise to me, as Blaze books usually focus more on hot steamy sex, but there was a good balance in this book, at times it really put me on the edge of my chair.
Another notch in my keeper shelf!